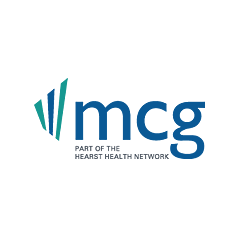 "This issue is critical to address, which is why we are looking forward to sharing how both payers and providers can reduce this administrative burden by using AI solutions." - Rajesh Godavarthi, Associate VP of Technology and Interoperability, MCG Health
SEATTLE, Wash. (PRWEB) November 03, 2022
MCG Health, part of the Hearst Health network and an industry leader in technology-enabled, evidence-based guidance, announces four of its interoperability experts will present two sessions at HLTH 2022 happening November 13-16, 2022, in Las Vegas, Nevada. The HLTH event brings together leaders from across the healthcare ecosystem to encourage connections and thought-provoking discussions that push the boundaries of health innovation.
Daniel Cawood, MCG Product Manager of Interoperability Solutions, and Nick Engelhardt, MCG Senior Product Owner of Interoperability Solutions, will present the first technology talk, "Reducing Administrative Burden in Admission Authorizations," on November 14, 2022, at 3:20 p.m. (PT). This session will discuss how MCG helped automate manual authorization submissions directly from the providers' EHR between a payer and two hospitals for emergent inpatient admissions.
Natalie McGarry, MCG Senior Product Owner, and Rajesh Godavarthi, MCG Associate Vice President of Technology and Interoperability, will present the second tech talk, "Reducing Administrative Burden in Elective Procedure Authorizations," on November 15, 2022, at 11:05 a.m. (PT). This presentation will cover how MCG helped automate manual authorization submissions for elective procedure admissions using the HL7 ® Da Vinci Project's Implementation Guides' (IGs) specifications.
"The healthcare industry has struggled with the authorization process for decades," said Godavarthi. "CAQH's Index from 2021 estimates that 35% of prior authorization requests in 2021 were submitted in a fully manual fashion (phone, fax, email, mail). This issue is critical to address, which is why we are looking forward to sharing how both payers and providers can reduce this administrative burden by using AI solutions."
Daniel Cawood oversees the product development for MCG's interoperability solutions and connecting payers and providers for authorization processes. Mr. Cawood began his time at MCG overseeing the Indicia suite of solutions (provider market clinical decision support) and value-based care solutions.
Nick Engelhardt is the Senior Product Owner for MCG's interoperability solutions. Prior to joining MCG in March of 2022, he worked as a program manager for utilization management operations and care management operations at a large health system based in Cleveland, Ohio. Mr. Engelhardt's experience in utilization and care management allows him to better understand the unique relationship between payers and providers. His work in interoperability solutions focuses on removing administrative burdens from clinical teams within payers and providers, creating a more efficient transaction that, ultimately, improves patient care.
Natalie McGarry has been with MCG for four years and is a Senior Product Owner for interoperability solutions. Her primary area of focus is building products that reduce administrative burdens. Before joining the interoperability team, Natalie was the Product Owner for MCG's provider-facing solutions.
Rajesh Godavarthi has been with MCG Health since 2002. MCG is an Associate Member of the HL7® Da Vinci Project and Mr. Godavarthi leads the development efforts for that partnership. Prior to MCG, he was the Development Lead at Milliman and a lead developer at Intel. He received his Master's in Computer Science from Osmania University.
For those interested in attending HLTH 2022, registration details and additional information can be found at: https://www.hlth.com/2022event.
###
About MCG Health
MCG, part of the Hearst Health network, provides unbiased clinical guidance that gives healthcare organizations confidence in delivering patient-centered care. MCG's artificial intelligence and technology, infused with clinical expertise, enables its clients to prioritize and simplify their work. MCG's world-class customer service ensures that clients maximize the benefits of licensing MCG solutions – demonstrating improved clinical and financial outcomes. For more information visit http://www.mcg.com or follow our Twitter handle at @MCG_Health.
About Hearst Health
The mission of Hearst Health is to help guide the most important care moments by delivering vital information into the hands of everyone who touches a person's health journey. Care guidance from Hearst Health reaches the majority of people in the U.S. The Hearst Health network includes FDB (First Databank), Zynx Health, MCG, Homecare Homebase and MHK (formerly MedHOK). Hearst also holds a minority interest in the precision medicine and oncology analytics company M2Gen. Follow Hearst Health on Twitter @HearstHealth and LinkedIn @Hearst-Health.