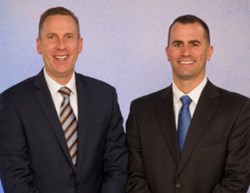 We appreciate Zillow recognizing us and our outstanding team of agents!
Waltham, MA (PRWEB) February 19, 2014
McGeough Lamacchia Realty is proud to announce ranking number 1 in Zillow for Home Sales in Massachusetts in the past 12 months.
Zillow, an online real estate database, lists real estate agents by location and sales under the Find a Pro directory menu on its website. When a home buyer selects Find a Pro in Massachusetts, McGeough Lamacchia appears at the top when sorted by Recent Sales.
John McGeough and Anthony Lamacchia, brokers and owners of McGeough Lamacchia, are pleased to rank so high on this popular real estate website.
"We are happy to be working with Zillow along with all of our other online marketing tools," says Anthony Lamacchia. "We appreciate Zillow recognizing us and our outstanding team of agents!"
In addition to ranking McGeough Lamacchia number 1 for home sales in Massachusetts, Zillow has also awarded the company with the Zillow All-Star Blue Ribbon badge. The All-Star badge is given to top contributors of the Zillow community who share their real estate knowledge and help others by contributing high-quality content.
"Being awarded the All-Star badge also gives us better placement in the Zillow Professional Directory," says John McGeough, "which helps us to connect more easily with people looking for helpful tips, advice, and guidance on buying and selling a home in Massachusetts."
Last month McGeough Lamacchia announced the company sold over 500 homes in 2013, ranking them the number 1 real estate agents in Massachusetts for the 4th year in a row.
In response to the company's increased sales volume, McGeough Lamacchia hired more Buyer's Agents to cover more areas. McGeough Lamacchia also launched a new Agent training initiative called REAL Training, which stands for Real Estate Education Advancement for Life. The program prepares Agents to better service home buyers and sellers by addressing real world situations and staying up to date on the latest real estate trends.
McGeough Lamacchia sells homes all over Massachusetts and Southern New Hampshire, including the Metro Boston area, the North Shore, South Shore, and Worcester County.
Mlrealtyne.com
About McGeough Lamacchia Realty
McGeough Lamacchia Realty Team is the number one Real Estate Team in Massachusetts and named one of the fastest growing Real Estate Companies in the U.S in 2013 by Inc. Magazine. They are a full service real estate agency serving home buyers and sellers Massachusetts and New Hampshire.
Sources:
Zillow Find a Pro:
zillow.com/directory/Massachusetts/real-estate-agents/?frmsrch=true&sort=17
mlrealtyne.com/wp-content/uploads/2014/02/zillow2.jpg
MLS PropertyInformation Network:
Home sales in Massachusetts: mlrealtyne.com/wp-content/uploads/2014/01/MLmarketshareallagentsMA.pdf
Home Sales in Massachusetts and New Hampshire: mlrealtyne.com/wp-content/uploads/2014/01/MLmarketsharemarinh.pdf
Total Sold for McGeough Lamacchia Realty 2013: mlrealtyne.com/wp-content/uploads/2014/01/totalsoldall.pdf
Inc. 500 | 5000 List: inc.com/inc5000/list/industry/real-estate