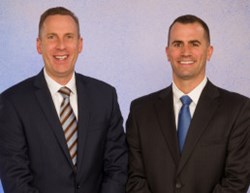 Waltham, MA (PRWEB) January 15, 2014
McGeough Lamacchia Realty, a full service real estate company serving Massachusetts and Southern New Hampshire, sold more homes than any other agents or teams in Massachusetts in 2013.
According to data provided by MLS Property Information Network (MLSPIN), there were 350 home sales in Massachusetts under the McGeough Lamacchia Team for 2013*, putting the company at the number one spot in home sales for the fourth year in a row.
Along with the 350 sales in Massachusetts, the McGeough Lamacchia Realty team had an additional 57 sales in New Hampshire for a total of 407 listing sales overall**. This number doesn't include the company's agents in the field who sold homes not listed under McGeough Lamacchia Realty. As a company, McGeough Lamacchia sold a grand total of 511 homes in 2013.†
McGeough Lamacchia Realty also made the 2013 Inc. 500|5000 list of the fastest growing private companies in the U.S. The company ranks 64 in the list of Top Real Estate Companies in the U.S.; ranks 86 in Top 100 Massachusetts Companies; and achieved rank 80 for the Top Companies in the Boston Metro Area. McGeough Lamacchia Realty earned the position of 2285 on the 2013 Inc. 5000 list. This is the second consecutive year McGeough Lamacchia Realty appears on the list.
McGeough Lamacchia was also named one of the Boston Business Journal's 2013 Pacesetters, a list of the fastest growing private companies in the state. The company ranked number 23 out of 70 Massachusetts companies that recorded the highest three-year growth rate in revenue as of Dec. 31, 2012, with a starting baseline of $1 million.
John McGeough and Anthony Lamacchia, brokers and owners of McGeough Lamacchia Realty are preparing for another strong year for home sales in 2014.
"In 2013 we added more Buyers' Agents to help even more home buyers in Massachusetts and Southern New Hampshire," John McGeough said. "We also launched a comprehensive training program called REAL Training, which stands for Real Estate Education Advancement for Life. The program includes innovative strategies to help our Agents compete in today's real estate market. By providing training that answers real world situations, we empower our agents to take their business to the next level."
"In response to the continued growth of the home buyers market," added Anthony Lamacchia, "we are hosting a Free Home Buyer Seminar February 1st, 2014 at the Boston Marriott Newton. Anyone thinking of buying a home in the next two years should join us for this informative seminar featuring a panel of industry experts."
The Home Buyers Seminar is a free event but a reservation is required by Monday, January 27, 2014.
For more information, visit the Home Buyers Seminar reservation page.
About McGeough Lamacchia Realty
McGeough Lamacchia Realty Team is the number one Real Estate Team in Massachusetts and named one of the fastest growing Real Estate Companies in the U.S in 2013 by Inc. Magazine. They are a full service real estate agency serving home buyers and sellers Massachusetts and New Hampshire.
mlrealtyne.com
Sources:
MLS PropertyInformation Network:
*Home sales in Massachusetts: mlrealtyne.com/wp-content/uploads/2014/01/MLmarketshareallagentsMA.pdf
**Home Sales in Massachusetts and New Hampshire: mlrealtyne.com/wp-content/uploads/2014/01/MLmarketsharemarinh.pdf
†Total Sold for McGeough Lamacchia Realty 2013: mlrealtyne.com/wp-content/uploads/2014/01/totalsoldall.pdf
Inc. 500 | 5000 List: inc.com/inc5000/list/industry/real-estate
Pacesetters: bizjournals.com/boston/news/2013/03/05/the-bbj-announces-the-2013-pacesetters.html