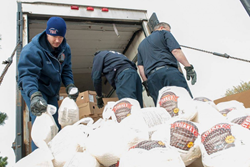 Oklahoma (PRWEB) November 11, 2015
Noble McIntyre and his law firm McIntyre Law is participating in distributing over 25 tons of turkeys (or 5,000 turkeys) for the 6th year in a row to families who struggle with hunger. Once again, the firm has partnered with the Regional Food Bank of Oklahoma and 75 other Oklahoma law firm members of the Oklahoma Association for Justice, an organization for which Noble McIntyre serves as president.
A group of lawyers co-spearheaded by Noble McIntyre called "Lawyers Fighting Hunger" has raised more than $80,000 this year to provide turkeys to families in need in Oklahoma City, Norman, El Reno, Mustang and Tulsa.
Turkeys will be given out one per family on a first-come, first-served basis until they are gone. There will be free hamburgers, hot dogs, bottled water and soda available to all who attend the giveaway event. McIntyre Law is the Official Review Sponsor for the University of Oklahoma Football team. The University of Oklahoma has advised that their Cheerleader squad will be present at the offices of McIntyre Law to assist in the distribution of turkeys and other festivities. Additionally the Local 157 of the Oklahoma City Firefighters will once again be on hand to hand out turkeys. Face painting for the children will be available as well as a concert lead by Oklahoma music artist Blake Bolerjack.
One in six Oklahomans has insufficient access to food, which makes Oklahoma one of the hungriest states in the nation. That means that wintertime presents an extra set of challenges to many Oklahomans, who often have to choose between food and utilities during the coldest months of the year. 72 percent of the Oklahoma Food Bank's clients are in this situation, which is why the team at McIntyre Law feels the urgency and importance of serving a hot, satisfying, nutritious holiday meal to those who can use it most.
Turkeys will be given beginning at the times listed below and will continue until all of the turkeys have been distributed:
Oklahoma City: Nov. 19th, begins at 10 a.m.; McIntyre Law offices, 8601 S. Western Ave.
Norman: Nov. 20th, begins at 11 a.m.; Bernstein Law Office, 104 W. Gray St.
El Reno: Nov. 20th, begins at 10 a.m.; El Reno Elks' Lodge, 415 S. Rock Island Ave.
Tulsa: Nov. 21st, begins at 11 a.m.; Iron Gate Ministries, 501 S. Cincinnati Ave. (turkeys and groceries distributed to pre-registered recipients)
Mustang: Nov. 23rd, begins at 11 a.m.; Mustang Fire Department, 470 West Highway 152
McIntyre Law, P.C. is an Oklahoma City law firm that improves the lives of individuals through representation in cases involving serious or catastrophic injuries as a result of negligence. McIntyre Law has a strong commitment to the community. Giving back is one of the firm's most important values, and McIntyre Law is proud and humbled to be participating in the Annual Day of Kindness. For more information on McIntyre Law visit http://www.oklahoma-law.com
or visit https://www.facebook.com/oklahomalaw/.