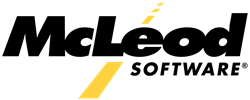 At the conference in Nashville this week, McLeod Software announced a new web browser User Interface for their systems.
BIRMINGHAM, Ala. (PRWEB) September 27, 2022
McLeod Software Company Growth Continues
After 2021, which was a double-digit growth year for McLeod Software, the company's 2022 top line revenue continues to grow at an annual rate exceeding 20%. Their customer base has grown by more than 10% in the last year. McLeod's internal investment in product development has grown by more than 15% in the last year, and the company's employee base is on track for a 15% annual growth rate in 2022. McLeod Software surpassed 600 total full-time employees earlier this year.
MPact PRO
This summer McLeod Software introduced an advanced version of their MPact trucking lane and rate analysis tool, MPact PRO. The expanded capabilities in MPact PRO let the carrier or 3PL benchmark themselves against the rest of the market and gain a deeper understanding of market rate dynamics in any given origin, destination, or lane.
Users can access MPact PRO directly from their LoadMaster® or PowerBroker® system to create a step-by-step picture of capacity and volume in markets and evaluate the ever-shifting rate landscape. This analysis becomes valuable when a user is trying to optimize both daily spot rates, or during bid season for contract rate decisions, by targeting where, when, and how to price freight based on the current dollar amount and profit potential.
McLeod's truckload market rate dataset, derived daily from over 1,000 companies contributing rates, includes trailer types, load length of haul, load commodity, origins, and destinations, giving users more ways to slice and dissect their markets. The rates are also differentiated between the spot and contract rate in every lane.
MPact PRO offers a wide range of visualization tools to help users quickly and clearly understand the analysis and apply that understanding to their business decisions.
Published Open API
Almost two years ago, McLeod Software published an Open API for Digital Freight Matching (DFM) within the PowerBroker system. This allowed suppliers of digital freight matching products and services to develop their own integration solution with PowerBroker using a standard published web services API interface. So far at least six companies have certified their integration with the McLeod DFM API, enabling them to offer those solutions to McLeod PowerBroker customers as a fully integrated tool for PowerBroker users.
This year McLeod introduced the same type of Open API integration point for mobile communications and ELD systems, as well as trailer monitoring and tracking solutions. At the company's annual User Conference this week in Nashville, they announced the first two deployments of this Open mobile communications API with the new LoadMaster Symphony Mobile Communications Service (SMCS). The SMCS API now supports ISAAC Instruments for tractor telematics, HOS information, driver dispatch workflow, and document image capture; and TGI Connect for their trailer telematics solution.
In the future, all new integrations for LoadMaster with both ELD/mobile communications and trailer telematics will employ this new standard Open SMCS API. That means any qualified telematics provider who wants a supported integration solution with McLeod will be able to move forward at their own pace, and complete the necessary development, then arrange testing and certification with McLeod. Without a doubt, this will speed the pace of adding more supported telematics integration solutions for LoadMaster, just as the DFM API has so quickly opened the world of DFM solutions for PowerBroker.
Web Service API Expanding
McLeod first introduced web service APIs for LoadMaster and PowerBroker in 2010. Since that time, the functionality of the McLeod Web Services API has grown to include hundreds of available functions for those customers who choose to license them. This has allowed McLeod customers to extend the capabilities of their systems and create their own integration solutions without any modifications to their core McLeod system.
An Architecture that Scales
In late 2021, McLeod Software released a major overhaul for parts of the technical architecture of their systems, specifically the application servers and messaging systems that are the foundation for the functional software applications we deliver to customers. As they continue to build on this new server architecture, it is bringing their customers higher performance and the ability to scale their systems, while also providing a higher level of security and reliability.
More Partners & Choices
No TMS on the market offers the number or variety of fully supported and tested off-the-shelf integration solutions as McLeod Software. In the last year, McLeod has continued their fast pace of adding integration solutions with more products and services. In addition to the previously mentioned ISAAC Instruments and TGI Connect integrations being introduced this week, LB Technology and GPS Insights were added earlier this year, while their existing integration solutions with Descartes MacroPoint and Motive (formerly KeepTruckin) were expanded.
Cloud Services
At the User Conference this week in Nashville, McLeod Software re-branded their "Hosted Solutions" offering to "Cloud Services." Currently over 300 of their customer companies with over 10,000 daily users have chosen to have McLeod Software deliver their applications via hosting service, which McLeod has offered for a decade now. The newly rebranded Cloud Services has more service options for customers to choose from when they elect to have McLeod host and deliver their applications from the cloud.
Expanding Business Process Automation
McLeod Software continues to expand their complete, out-of-the-box business process automation solutions, this time with Carrier Invoice Processing. The new module in McLeod's Logix Solutions family of automation products helps 3PLs and brokers quickly and easily collect, identify, index, and match carrier documents electronically to speed the carrier payment process. Carrier Invoice Processing is innovative in that it makes extensive use of optical character recognition technology to mitigate the need for various images to be reviewed by people. The system also works to help back-office staff handle exceptions, such as multiple loads on a single invoice, or OS&D claims associated with a load. By accurately and automatically moving carrier invoices along through the process, carriers get paid faster and the 3PL spends far less time and work on the process.
Role-Based Productivity and a Web User Experience
Last but certainly not least, at the conference in Nashville this week, McLeod announced a new web browser User Interface for their systems. The first release of this Web User Interface is PowerBroker Web.
PowerBroker Web has been developed in close collaboration with a number of the company's 3PL customers and is currently going into production at the initial sites, a group of customers who volunteered to be early adopters of the new product.
Rather than just "skin" existing systems with a web browser interface, McLeod has worked to improve the role-based user experience for their customers at the same time they converted the user interface for web browsers. The design of these new working efficiencies and role-based workflows was completed in close collaboration with a group of existing customers.
PowerBroker Web does not surrender the broad robust functionality and capability of the PowerBroker system. The same application layer processes, functions, data, and capabilities are still present, in fact customers can continue to run their existing PowerBroker user interface clients concurrently, and move their users to the new web user interface at their own pace.
Upon conclusion of full implementations at the early adopter customer sites, sometime in early 2023, PowerBroker Web will be released for all McLeod customers who wish to upgrade their systems. In future releases of McLeod's PowerBroker, LoadMaster, and LoadMaster LTL systems, this new web-based user interface will be extended across the entire McLeod product line.
About McLeod Software
McLeod Software is transforming the trucking and transportation industry with the leading software for trucking dispatch operations management and freight brokerage management. Our customers use business process automation and insight from business intelligence to improve their customer service and operating ratios, attract and retain the best drivers, and automate their crucial business processes.
Visit us at http://www.McLeodSoftware.com.