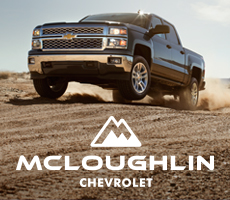 "This is such a great opportunity for us to give back," said Joe Khorasani, General Manager of McLoughlin Chevrolet. "We are excited and proud to be part of this great campaign."
Portland, OR (PRWEB) October 27, 2014
McLoughlin Chevrolet, along with General Motors and other Chevrolet dealerships nationwide, have joined the fight against breast cancer. The American Cancer Society raised more than $1.1 million in 2013, but, this year, McLoughlin Chevrolet plans to beat that number.
For four consecutive years, Chevrolet and General Motors have joined forces, launching nationwide grassroots campaigns to raise awareness of breast cancer and raise money for the cause. The funds raised by their efforts help the American Cancer Society pay for continuing research, awareness education and treatment for breast cancer patients.
"This is such a great opportunity for us to give back," said Joe Khorasani, General Manager of McLoughlin Chevrolet. "We are excited and proud to be part of this great campaign."
Chevrolet's collaborative nationwide efforts have helped the American Cancer Society raise more than $3 million since 2011.
"The money we raise and support we receive from Chevrolet nationwide helps us save more lives from breast cancer -- and faster -- and supports our mission to create a world with less breast cancer and more birthdays," said the American Cancer Society Vice President of Distinguished and Corporate Partners, Jill Elder.
McLoughlin Chevrolet plans to support this cause throughout the entire month of October and encourages customers to sport the color pink to promote awareness and support.