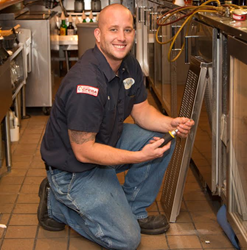 I feel like I have a secure career now. This job can't be outsourced. I have a fantastic benefit package, good pay and great people to work with. --Larry Woerter, MCOR program graduate
Scottsdale, AZ (PRWEB) November 20, 2014
Maricopa Corporate College (MCOR) has partnered with online learning company, Ignitor Labs, to provide a one-of-a-kind commercial food equipment repair program to help bring attention to this in-demand career that has limited visibility.
The interactive, online training program does more than just provide the necessary technical skills needed to become a commercial food equipment technician. It also guarantees an interview with a hiring company for all students who successfully complete the program, which can typically be finished in just one month.
With this partnership, MCOR has become the only educational entity in the state to offer this program to individuals looking for a career in this promising field. There are currently 15,000 job openings for service technicians nationwide and that number is expected to increase by 8 percent over the next five years.
The Ignitor Labs program being offered through MCOR and developed in partnership with the Commercial Food Equipment Service Association (CFESA) teaches students how to fix, install or replace commonly used equipment in restaurants, schools, hospitals and supermarkets.
Service technicians are expected to repair a wide range of equipment, such as ovens, refrigerators, coffee makers and dishwashers. This program prepares students to meet these demands.
Although the program has only recently been added to MCOR's extensive list of courses, it has already had great success in other colleges throughout the United States.
Larry Woerter heard about the program through one of the first community colleges to offer it—College of the Canyons in Santa Clarita, Calif. After 20 years of working in the manufacturing industry, his position was eliminated. Woerter struggled to find a new job until he found the commercial food equipment repair program.
"I feel like I have a secure career now. This job can't be outsourced. I have a fantastic benefit package, good pay and great people to work with," Woerter said. "Because of the training, I have a good feeling for the industry and how things work. I'm able to go into any situation and look at a variety of different types of equipment and figure out how to fix it based on my knowledge."
This program also offers a unique opportunity for veterans.
Veterans seeking to enroll in this program are eligible to receive special funding through Vet2Tech, a non-profit organization dedicated to helping veterans find technician jobs such as this one. The non-profit provides scholarship funding in order to combat the high unemployment rates among young veterans.
The commercial food equipment technician program also provides a perfect opportunity for individuals who now fall under the Deferred Action for Childhood Arrivals program (DACA) as well.
In 2012, the Secretary of Homeland Security announced that certain individuals who were brought into the United States illegally as children would be allowed to remain in the United States legally. However, these individuals are not considered citizens or permanent residents. For this reason, those looking to further their education face many barriers.
Individuals under DACA are ineligible for federal financial aid and may be ineligible for state scholarships and in-state tuition. Depending upon the state, they may also be unable to acquire a professional state license for occupations such as pharmacy technician, cosmetologist or massage therapist.
Commercial food equipment technicians do not need a professional state license but enjoy great pay, benefits and work environment, making this a promising opportunity for individuals who fall under DACA.
To learn more about this program or one of MCOR's growing catalog of more than 300 instructor-facilitated online and in-person courses.
About Maricopa Corporate College (MCOR):
From entry-level to executive training, MCOR delivers market-relevant, customized workforce solutions and education for employees in virtually every industry sector.
Through a strategic business partnership model, MCOR assesses workforce training needs and develops and delivers customized and integrated solutions to meet those needs throughout all levels of an organization. MCOR is part of the Maricopa Community Colleges — one of the largest higher education systems in the nation with nearly 250,000 students, and a model of excellence internationally.