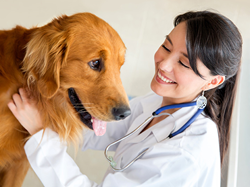 Phoenix, AZ (PRWEB) September 27, 2014
Maricopa Corporate College (MCOR) is excited to announce a Veterinary Assistant training program beginning in October. This high-quality, low cost program is offered in partnership with MK Education, an education consulting firm that has nearly 15 years of experience in creating programs that help their graduates excel in the healthcare industry!
For those that enjoy being around animals and would like to earn an income while making a difference, a career as a Veterinary Assistant maybe exactly the job they've been looking for. Veterinary Assistants are entry-level healthcare professionals that work in many different veterinary settings. They work with Veterinarians and Veterinary Technicians to provide medical care for sick or injured animals.
This program was created in response to popular demand for formal veterinary assistant training in the area. Employment of veterinary assistants and animal caretakers is projected to grow 10 percent from 2012 to 2022, about as fast as the average for all occupations.
The classes will begin at Phoenix College- Downtown on 10/20/14 and run till 3/3/15 on Monday and Wednesday from 6pm – 9:30pm an additional class will be held in Scottsdale at Maricopa Corporate College. The Scottsdale class will run from 10/28/14 – 3/12/15 on Tuesday and Thursdays from 6pm – 9:30pm.
For successful completion of this course, the students will complete externship rotations of 60 hours in a veterinary setting where they would be required to work under the guidance of veterinary assistants, technicians, or veterinarians. An externship allows you to use the education you learned in the classroom into real life hands on training! Students will be placed in a clinic, hospital, or zoo environment (based on eligibility of preceptors at externships).
Tuition includes textbooks, lab supplies, scrubs and externship. A payment plan is available through MK Education. The tuition is $1,999 for the semester and the payment plan requires a down payment of $500. Register online or call student services at (480) 377-2777.
This course is part of Maricopa Corporate College's growing catalog of more than 300 instructor-facilitated online and in-person courses. Through well-crafted lessons, expert instruction, and interaction with fellow students, participants in these courses gain valuable career knowledge.
Maricopa Corporate College is part of the Maricopa Community Colleges — one of the largest higher education systems in the nation with nearly 250,000 students, and a model of excellence internationally. With a 50-year history of providing quality educational programs in virtually every industry, MCCCD is rich resource that allows Maricopa Corporate College to meet the unique needs of the individual in the workforce and deliver custom business solutions ranging from strategic consulting to C-Level concerns.
To learn more about these programs, call or visit the Professional Education Division at Maricopa Corporate College at 480-377-2777.