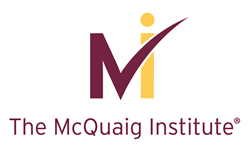 The single biggest obstacle for HR is not skills shortages, candidate supply or qualifications; it's their internal partners
Toronto, Ontario (PRWEB) July 23, 2014
When it comes to the job of finding and acquiring talent, hiring managers are one of the biggest challenges facing HR professionals today, according to a survey conducted by The McQuaig Institute. In fact, 53% of HR professionals surveyed identified issues with hiring managers as one of the top three challenges they face in recruiting talent.
Nearly half (45%) of respondents said their hiring managers are not strong interviewers. That number climbed to 65% for large companies. The results come from the 2014 McQuaig Global Talent Recruitment Survey.
"HR professionals are frustrated," said Ian Cameron, Managing Director of The McQuaig Institute. "They're focused on bringing the right talent into their organizations and the single biggest obstacle is not skills shortages, candidate supply or qualifications; it's their internal partners."
Getting those candidates in the door is just the beginning, though. Those surveyed said they expect 10% of new hires to be gone before the end of the first year and a whopping 61% said lack of skills are not to blame when someone doesn't work out.
Half of HR professionals surveyed (51%) said it's hard to find a good cultural fit. New employees are also getting unhappy earlier, with 54% saying disenchantment begins to set in during the first six months.
To help improve talent acquisition in their organizations, HR professionals surveyed said their top three investments for this year will be in:

social media management;
onboarding programs; and
employment websites
In addition, nearly 70% of respondents said they are currently using a behavioral assessment tool to help them.
You can download the complete survey results report at http://www.mcquaig.com/survey. You can also register for our upcoming webinar discussing the results here.
About the 2014 McQuaig Global Talent Recruitment Survey
The McQuaig Institute set out to take a pulse of talent acquisition efforts at companies around the globe. We sought to identify the current challenges being faced in acquiring and retaining talent and the steps organizations are taking to address those challenges.
Between May 2 and May 20, 2014, we surveyed nearly 600 HR professionals using an online survey. 52% of respondents were from North America and 48% from around the globe. Of those, 39% were from organizations with fewer than 200 employees, 27% from organizations with 200-999 employees and 34% from organizations with 1000+ employees.
About The McQuaig Institute
The McQuaig Institute offers a simple, accurate talent assessment system and ongoing support that empowers you to hire, retain and develop the right people. The McQuaig System delivers reduced turnover and increased productivity through more efficient teams and more engaged employees. Pre-employment testing can be a strong predictor of future performance when matching a candidate to a valid job profile. McQuaig will provide you with a well-defined process that delivers the most value to your company.
Media Contact:
Michael Miller
Manager, Marketing & Communications
416-941-9418, ext. 363
mmiller(at)mcquaig(dot)com