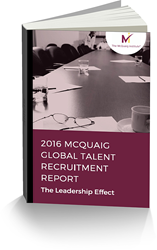 "These results seem to be telling us two things," said Ian Cameron of The McQuaig Institute. "Having effective leaders has a meaningful impact on attracting and retaining talent; and most HR professionals don't feel their leaders are more than adequate."
Toronto, Ontario (PRWEB) April 04, 2016
The quality of a company's leadership is having a big impact on its ability to attract talent, according to a global survey by leading talent management assessment provider The McQuaig Institute. Unfortunately, companies with very effective leaders are in the minority.
The good news in the 2016 McQuaig Global Talent Recruitment Report is that companies with effective leadership are more likely to provide new managers with leadership training (79%) and interview training (53%), more likely to have a succession management program (73%), and managers are better at assessing candidates. The bad news is that only 25% of HR professionals believe their leaders are "very effective."
Online job boards were the most used channel for finding candidates, but companies with effective leaders were more likely to use employee referrals and social networking sites. They also got better quality candidates from these two channels than their counterparts.
Among the many other highlights in the report:
The State of Talent Recruitment

One third of respondents are finding it more difficult to fill openings compared to a year ago
62% struggle to find cultural fit
Top planned investments are onboarding programs, social media management, and behavior assessments
Leadership and Talent Recruitment

The top traits of an effective leader were identified as empowering others (72%), building trust (52%), and strategic thinking (52%)
Nearly 40% of companies provide no leadership training
49% of companies have no succession management program
Recruiting Channels

Online job boards were the most-used recruiting channel (82%)
Employee referrals deliver the highest quality of candidates (33%)
North Americans are the biggest users of social networking sites (78%)
Social Recruiting

30% of respondents are not using social networking sites in their recruiting efforts
Australians are the least likely to use social networking sites (57%)
27% are posting content other than job ads to build employer brand awareness
Companies with effective leaders are much more likely to get employees involved in social recruiting
Hiring Managers

Only 40% say their hiring managers are excellent interviewers
The interview accounts for 72% of the hiring decision, say respondents
Hiring managers at companies with effective leadership are more equipped to assess candidates (82%) compared to those at companies with weaker leadership (30%)
"When we look at these results as a whole, they seem to be telling us two things," said Ian Cameron, Managing Director at The McQuaig Institute. "Having effective leaders has a meaningful impact on the ability to attract and retain talent; and the majority of HR professionals don't feel their leaders are much more than adequate.
"Succession management, leadership development, and hiring practices are the paths to fixing this crisis," added Cameron. "Underlying all of this, though, is the ability to understand people so you can get the right ones on board and develop them right way."
DOWNLOAD THE COMPLETE REPORT HERE.
-30-
About the 2016 McQuaig Global Talent Recruitment Survey
Between February 1 and February 25, 2016, The McQuaig Institute surveyed 438 HR professionals using an online survey regarding their recruiting activities and the state of the talent market. Respondents were from the United States (23%), Canada (22%), Australia/New Zealand (30%), the UK/Europe (15%), the Middle East (4%), with other regions making up 4%. Of those, 33% were from organizations with fewer than 100 employees, 30% from organizations with 100-499 employees, 28% from organizations with 500-4999 employees, and 9% from organizations with 5000+ employees. Respondents were primarily senior-level, with 23% at the VP-level and above, 18% at the Director level, and 40% at the Manager level.
About The McQuaig Institute
The McQuaig Institute offers a simple, accurate web-based talent assessment system and ongoing support that empowers employers to hire, retain and develop the right people and avoid hiring the wrong people. The McQuaig System delivers reduced turnover and increased productivity through more efficient teams and more engaged employees. Pre-employment testing can be a strong predictor of future performance when matching a candidate to a valid job profile. Through customized implementation, McQuaig will ensure a well-defined process that delivers the most value to your company. More details at http://www.McQuaig.com.