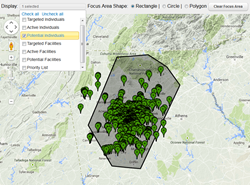 The new ONC HIT interoperability standards drive synergies between complementary systems like referral management and medical practice management
Clearwater, Florida (PRWEB) March 02, 2015
To help healthcare organizations both market their services and manage their practices compliantly and profitably, MDreferralPRO and Vericle now offer an integrated all-inclusive solution. The interoperability between a strategic referral management and development program and a medical practice management system is necessary for a healthcare organization's success and long-term financial sustainability. A referral management and development solution relies on the operational data provided by the medical practice management system to identify practice growth potential. An integrated best-of-breed solution helps healthcare organizations BOTH strategically grow their practice AND manage it to the highest industry standards.
"We considered a variety of third party providers, but no one has been able to come up with the breadth of scope of marketing decision-support functionality offered by MDreferralPRO," says Dr. Yuval Lirov, chief executive officer for Vericle. "Independent healthcare practice owners must compete with other, large healthcare providers and hospitals without massive budgets, trained staff, and perfected processes. Our partnership with MDreferralPRO supports our mission to provide the most innovative healthcare technology solutions available to our national base of healthcare organizations."
According to Bricken McKenzie, MBA, FACMPE, FACHE chief executive officer for MDreferralPRO, MDreferralPRO helps healthcare practices develop concrete referral management, marketing, and communication strategies that foster lasting relationships with other providers in their market area. "In addition to solving a marketing resource shortage problem, MDreferralPRO solves three major problems that conspire for a "perfect storm" against practice owners," says McKenzie. "First, healthcare organizations get to identify and target all potential referral sources in their market area, most of which are often missed through search engine inquires. Next, healthcare organizations get a productivity management tool that optimizes their referring provider potential based upon the limited marketing resources available to them. Finally, these organizations get a system that teaches and helps them to strategically prioritize referring sources according to current business priorities - not prior relationships. Watch a quick demonstration video here.
"MDreferralPRO takes the guesswork out of referral marketing but it needs operational data to become optimally effective. On one hand, marketing success depends on relevant, complete, and current data. On the other hand, manual data acquisition is error-prone and often delayed in favor of more urgent mission-critical tasks," says Lirov. "Automated collection of all relevant data directly from multiple sources, including practice billing, documentation, EHR, and local provider directories, bridges this conflict and allows for discovery of hundreds of untapped referring sources, their strategic prioritization, and trending of referral patterns. The new ONC HIT interoperability standards drive synergies between complementary referral management and medical practice management systems like MDreferralPRO and Vericle."
According to Lirov, Vericle 4.0 has received the ONC HIT 2014 Edition Complete EHR certification, which designates that the software is capable of supporting eligible providers with Stage 1 and Stage 2 Meaningful Use measures required to qualify for funding under ARRA. The Stage 2 certification requires not only that the system have enhanced clinical practice management capabilities, but also improved interoperability with other systems and users. "The broader and more complete the set of intuitive systems that improve individual patient care, foster staff teamwork, while maintaining HIPAA compliance - the better healthcare practice owners are equipped to make well-informed and timely decisions that affect revenue, patient visits, and, ultimately, the success of their practice," adds Lirov.
About MDreferralPRO (http://www.mdreferralpro.com)
MDreferralPRO is the premier Strategic Referral and Business Development Solution for Physicians, Hospitals, and Healthcare Systems. The program combines "cutting-edge" provider targeting, referral analytics, and business strategy into an easy-to-use, web-based application. MDreferralPRO was created by healthcare administrators and IT experts to provide a strategic resource that allows healthcare organizations to focus their resources on growing the RIGHT type of new patient demographic.
About Vericle (http://www.vericle.net)
Vericle is the premier healthcare enterprise management software platform that powers up medical billing companies, practice owner coaching and compliance services, and independent healthcare practices. It manages patient flow, cash flow, and compliance, and it includes business workflow management, electronic health records, billing, and scheduling using a streamlined, intuitive interface. Vericle is sold directly to billing companies and practice coaching and compliance services as well as through exclusive partnerships with Patient Relationship Management, Patient Education, Credit Card processing and EHR companies. Vericle has received 2014 COMPLETE EHR ONC Certification, which designates that the software is capable of supporting providers with Stage 2 meaningful use measures required to qualify for funding under the American Recovery and Reinvestment Act (ARRA).
About ONC Certification
The ONC Certified Health Information Technology (HIT) program tests and certifies that HIT is capable of meeting the 2014 Edition criteria approved by the Secretary of Health and Human Services (HHS). The certifications include Complete EHRs, which meet all of the 2014 Edition criteria for either eligible provider or hospital technology and EHR Modules, which meet one or more — but not all — of the criteria.