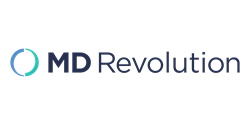 Having the benefit of care managers with MD Revolution has allowed us to communicate with our patients quickly. We are connected to our patients and are prepared for a time when our patients can start coming back into the office. - Ashley Ludwick, Practice Manager at Wheeling Hospital in WV
SOLANA BEACH, Calif. (PRWEB) April 03, 2020
MD Revolution, Inc., a provider of comprehensive Medicare Care Management services and patient engagement technologies, announced it is immediately launching "RevUp Now," a streamlined implementation of its flagship RevUp Care Management services in response to the COVID-19 pandemic.
MD Revolution reports that it is redoubling its commitment to improving patient outcomes through a combination of telehealth and remote care during this difficult period, and is providing its RevUp Now program to any practice on an accelerated basis. MD Revolution has the experience and bandwidth to onboard anywhere from hundreds to thousands of patients in a matter of days, not weeks or months.
RevUp Now Provides Care Management Fast
RevUp Now is a rapid rollout of its full care management platform, with the specific intent of helping medical practices maintain financial viability and connection with patients during this national shutdown. RevUp Now includes all core features of the RevUp platform, including Chronic Care Management, Remote Patient Monitoring, Annual Wellness Visits, COVID-19 screening, and more.
In particular, RevUp Now includes:

Rapid service deployment and patient enrollment, focused on quickly starting service for patients in under 7 days
Remote training for medical practices and clinics
Customized care coordination and escalation protocols to support practice operations
On-demand remote clinical resources to deliver care on the clinic's behalf
A system for helping patients prepare for tele-health visits with their doctor, to make those initial visits as productive as possible
Timely COVID-19 and related health education for patients
Frequent virtual contact to keep patients engaged, and identify issues resulting from isolation and social distancing
RevUp Provides Coverage During Practice Closures
The RevUp care management platform fills the gap for physicians and clinics who have been forced to change the way they physically see their patients during this time. While practices across the country re-tool and regroup, finding the path forward for appointment-based telemedicine, our team of remote clinicians is able to stay in contact with their patients, providing a care plan, frequent tele-contact, maintain virtual interaction, all using the RevUp care management platform.
"Having the benefit of care managers with MDR has allowed us to communicate with our patients quickly. We are connected to our patients and are prepared for a time when our patients can start coming back into the office," according to Ashley Ludwick, Practice Manager at Wheeling Hospital in West Virginia.
MD Revolution's Response to COVID-19
"MD Revolution is doing its part during this pandemic. We have quickly added a COVID-19 screening assessment to our software to be available to the 30,000 patients under our care. Our clinical care team fields hundreds of requests from patients about symptoms, and we are the first line of defense for our patients while medical clinics are unavailable," said Nick Metzger, RN, Clinical Director. "In addition, to ensure uninterrupted service to our clients, our multiple call centers are now 100% remote, to serve our patients while protecting the wellbeing of our team."
To sign up for RevUp Now, contact Paul Huffman at (858) 847-5064, email now@mdrevolution.com, or visit our website at mdrevolution.com.
About MD Revolution, Inc.
MD Revolution is an innovative Care Management company that uniquely combines technology, services, and analytics to produce scalable, high-touch care models that enrich the patient-provider experience and, more specifically, mitigate the challenges associated with meeting the requirements for Medicare's Chronic Care Management (CCM) initiative, Behavioral Health Integration (BHI), population health programs, Annual Wellness Visits (AWV), as well as supporting Remote Patient Monitoring (RPM) and other digital health services. Solutions are available as full service turn-key solutions, software-as-a-service, and through reseller partners.
Press Contact:
Michael Moore
VP, Product Management
619/807-4007
michael.moore@mdrevolution.com