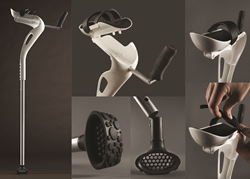 Kansas City, MO (PRWEB) September 14, 2016
The M+D Crutch by Mobility Designed, http://www.mobilitydesigned.com, was named a finalist in Fast Company's prestigious Innovation by Design Awards announced today, live on FastCoDesign.com. All of the finalists are highlighted in the October issue of the print magazine, which hits newsstands on Sept. 20.
The M+D Crutch is a patent pending crutch that is unlike anything in the market. By supporting the body's weight through the elbows and forearms; it reduces pressure traditional crutches place on the armpits, wrists and hands. Additional features include a hinged arm cradle for enhanced range of motion without removing the crutch and a rotating hand grip that allows the user to move the handles out of the way in the hand free mode.
The Innovation by Design Awards program, now in its fifth year, honors the most innovative and disruptive design solutions to today's business problems. This year's judging panel, which was once again comprised of the world's best design minds, selected the finalists from more than 1,700 international submissions across 11 categories—the most ever. Honorees include big-name brands like Facebook and Target, design firms like Ideo and Pentagram, and emerging companies like Kinduct and d.light.
Fast Company's October issue celebrates world-changing design, highlighting companies like L'Oreal, which is helping consumers monitor their sun exposure with its wearable My UV Patch; Oculus and Microsoft, which delivered virtual and augmented reality to the marketplace after billions in investment; Nike, which created self-lacing shoes inspired by Marty McFly; Dyson, which produced the world's most highly-engineered blow dryer; Planned Parenthood, which worked with Ideo to reimagine the patient experience; and many more.
About Mobility Designed: Mobility Designed is a company focused on creating and delivering Personal Assistive Devices that redefine mobility for the end user through products that combine design and function to provide the most pain free user experience possible.