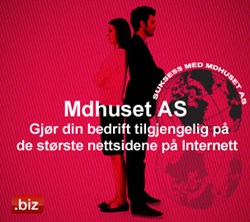 Oslo, Norway (PRWEB) December 19, 2013
Mdhuset, known for boasting the broadest marketing platform in all of Norway, has announced that it will be offering a 100 percent satisfaction guarantee. The company has stated that it will refund any client who is dissatisfied with their services as long as they can find another company in the business field that has the same wealth and quality of services.
When asked to define the exact terms of the money-back guarantee, a representative from Mdhuset clearly explained, saying, "It means that if the customer should find another supplier in our industry that gives as much value and quality for the same or lower price, they can get their money refunded."
The representative went on to explain the value of Mdhuset's services, saying, "We are able to greatly improve Internet visibility, and we have a number of products and services that are designed to streamline the workday of our customers."
The offer is yet another way that Mdhuset engenders a significant amount of trust in its clients. The company has a strong track record of customer service, with many of their clients reporting high levels of satisfaction with the products and services they have received.
Mdhuset has long been considered an industry leader in the field of marketing, going into business beginning in 2004. In that time, their website, telefonkatalogen.biz, has become a wellspring of information for a variety of products and services.
The company is also recognized for its track record in assisting charitable organizations in their endeavors. Mdhuset recently announced a number of programs that are specifically geared toward assisting these types of foundations.
"Of course, we are a business that has a great deal of business-related goals," said the representative. "We also care a great deal about how well we are doing our job for our clients. We feel that by offering this money-back guarantee that we will be able to ensure the highest levels of customer satisfaction."