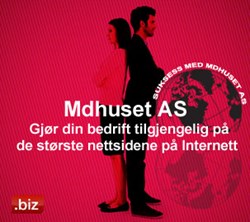 "We place a great deal of emphasis on being a positive part of the community at large, and that includes helping worthy causes in any way that we can." - Mdhuset Representative from telefonkatalogen.biz
Bergen, Norway (PRWEB) December 30, 2013
Mdhuset has developed a well-earned reputation for contributing more than just Norway's broadest marketing platform as they routinely seek out and assist charitable organizations. It seems that they will be taking this a step further at the dawn of the New Year, announcing that they will feature fundraising and volunteer efforts on their site at no charge.
Beginning January 1st, 2014, Mdhuset will allow full-page advertisements on the front of their website, telefonkatalogen.biz. These advertisements will be open to select organizations that are working on fundraising or volunteer efforts for worthy causes, and will be offered free of charge.
"We simply want to do our share when it comes to promoting charitable endeavors in the community," said a representative of Mdhuset. "We feel that we have a responsibility to help promote worthy causes. It is important to us to give back in any way that we can."
In the past, Mdhuset has not sold full-page advertisements on their telefonkatalogen.biz website's front page. The news that they will not only allow for full-page advertisements, but will offer them for free may seem somewhat jarring, but the fact is that Mdhuset has always prioritized matters that involve charitable giving and volunteer efforts.
"We are very proud of the fact that our business is not necessarily built around the bottom line," said the representative. "We place a great deal of emphasis on being a positive part of the community at large, and that includes helping worthy causes in any way that we can."
Mdhuset has frequently set the tone for other business in matters that range from corporate giving to environmental responsibility. The company is known to not only act in a way that is consistent with responsible business practices; it also makes a point to promote the use of those same practices to other corporations.
"I would not say that social change is our business," said the representative. "But it is certainly a part of it. Every corporation should feel that social responsibility is an important aspect of what they do. The fact that we are successful has enabled us to do more to promote these valuable and worthy causes. It is very rewarding for us that our success results in assisting positive social change."