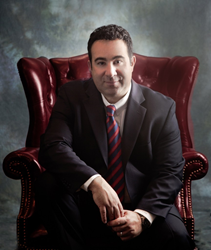 Bergen County, NJ (PRWEB) February 28, 2014
Michael Maggiano and Christopher DiGirolamo, of NJ law firm Maggiano, DiGirolamo & Lizzi, have been chosen to help teach and train the nation's top personal injury lawyers at the Boardwalk Seminar 2014. The Boardwalk Seminar is a 3 day seminar created to meet the continuing educational requirements of personal injury attorneys throughout the U.S. and features outstanding local and national speakers.
Michael Maggiano will co-chair an important seminar on the topic of "Proving Injuries in Verbal Threshold Cases." These are considered some of the most difficult cases of the automobile injury genre. Mr. Maggiano is a highly sought after lecturer in such matters based on his long list of successful recoveries for clients, his excellent communication style and command of the medicine and law. Mr Maggiano was recently awarded the prestigious Alfred C. Clapp Award for Excellence from the New Jersey Institute for Continuing Legal Education as he has donated countless hours teaching trial advocacy to both new and veteran trial attorneys across the country.
Chistopher DiGirolamo will be speaking on the topic "Section 40 Liens: Workers' Compensation Perspective and Third Party Perspective - What the Attorney Must Know." This is a very taboo topic for lawyers because it is confusing and complicated. It has the potential for mistakes that if not properly dealt with, could create attorney liability on cases. Mr DiGirolamo was chosen to speak because his practice includes both 3rd party litigation AND workers compensation. Mr. DiGirolamo has had to deal with these issues on huge cases and has learned how to navigate liens on recovery safely and effectively. He has also lectured on this topic numerous times (over 5 times in last 2 years) and audiences have requested that he present the program again.
This year's Boardwalk Seminar will be given at Bally's Atlantic City, Atlantic City, New Jersey from April 30 – May 2, 2014.
About Maggiano, DiGirolamo & Lizzi:
The attorneys of the New Jersey law firm of Maggiano, DiGirolamo & Lizzi dedicate their practice solely to plaintiffs personal injury law. They seek justice for the victims of car accidents, trucking accidents, construction accidents, workplace accidents, medical malpractice for the negligent acts done by individuals, companies, hospitals, government agencies and the large insurance companies that insure them.