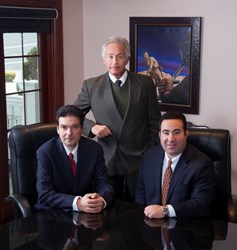 This scholarship was created out of our desire to give back to our community. We can think of no better way than to support the future legal leaders of tomorrow.
Bergen County, New Jersey (PRWEB) January 31, 2014
The New Jersey law firm of Maggiano, DiGirolamo & Lizzi has created an annual scholarship fund to award $500 to one college bound student with plans to pursue a legal career. This educational fund was created to make higher learning more accessible by providing financial relief in the first phase of achieving the goal of becoming an attorney, an undergraduate degree.
Michael Maggiano, senior partner at the firm, has been deeply committed to learning at all levels for his entire career. Over the last three decades Mr. Maggiano has organized, moderated and lectured at hundreds of programs to thousands of attorneys and judges. He continues to speak on a wide array of topics within the practice of personal injury litigation. "The greatest reward is to be able to make a positive difference in another person's life. Whether it is in the courtroom or though teaching, I am deeply humbled by the opportunity to make a positive impact."
Christopher DiGirolamo agrees, "We know that it is becoming increasingly difficult for college bound seniors to afford college. Through this education fund, we can provide financial support to one deserving student on their first step toward achieving their academic goals."
To qualify for the scholarship, candidates must be a graduating senior of a New Jersey high school and must provide an official school transcript and a copy of their SAT/ACT scores. The winner will be selected, not only by their academic successes, but by their life choices to date and their response to the essay topic. "What experiences have influenced your decision to pursue a career in law and how do you think these experiences will help you in this career choice?" The deadline to apply for the MDL Educational Scholarship is May 31, 2014. The winner will be announced by June 30, 2014.
For more information and to apply for the scholarship, click here.
About Maggiano, DiGirolamo & Lizzi:
The attorneys of the New Jersey law firm of Maggiano, DiGirolamo & Lizzi dedicate their practice solely to plaintiffs personal injury law. They seek justice for the victims of car accidents, trucking accidents, construction accidents, medical malpractice for the negligent acts done by individuals, companies, hospitals, government agencies and the large insurance companies that insure them.