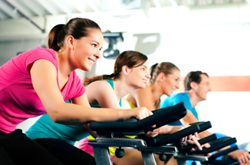 Fitness Myths Challenged by MD Wellness, Data Shows Shorter Workouts Lead to Better Results
Spring Lake, NJ (PRWEB) June 24, 2014
Dr. Rothman, a leading NJ Holistic Doctor, has found that working out too hard for long periods of time will overwork his clients' bodies. This can cause the body to shut down and stop reacting to the work his client is doing. In this case, less is more.
Doing high intensity work outs a few times a week is proven to be more effective than working out at the same intensity every day of the week. Straining the body is something that most people unknowingly do when working out. With this plan, clients can find a new way to work out and achieve their results without causing the body to shut down from exhaustion.
"Far too many people, including fitness 'expert'" and healthcare workers are under the impression that popular exercises that emphasize slow, repetitive routines, like jogging and elliptical machines are the best way to achieve weight loss and cardiovascular health. However, the truth is that these plodding, boring exercises are time consuming and can actually produce more harm than benefit."—Dr. Rothman, "Exercise – Fraction of the Time, Triple the Results"
Dr. Rothman has asked that his patients who have workout regimens to review them and make necessary changes in order to ensure their health in the long term. After reviewing their workouts, Dr. Rothman will look at the results of the changes and recommend any other modifications necessary. In his latest report, he outlines the basics for successfully working out in less time and with greater long term effects.
"Rest may be one, if not the most important aspects of your work out. It's during rest that your muscles have time to repair, recover, and grow."-- Dr. Rothman, "Exercise – Fraction of the Time, Triple the Results"
Over the last 20 years, Dr. Michael E. Rothman has dedicated his life to helping his patients understand the "how and why" of their health. He strives to provide the highest quality care utilizing natural, holistic, non-toxic methods. Dr. Rothman has an extensive background in Nutrition, Biochemistry, Physiology and Physics. He is highly respected by his peers and is loved by his patients.
If anyone would like more information about this topic or for help with Weight Loss in NJ, please contact Michael Rothman MD at 732-268-7663 or email at info(at)mdwellnessmd(dot)com.