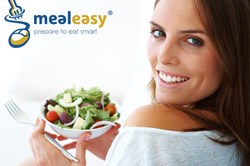 Most health care systems are not only very costly; they fail to address the root of sickness, disease and poor health.
Halifax, Nova Scotia, Canada (PRWEB) October 30, 2013
George Borovan (MealEasy/Noviden Technologies CEO) and President Barack Obama share a common goal: to dramatically improve the health of Americans through healthy living and affordable health care.
"There's no doubt that improving quality of life is the logical solution," said Borovan. "But that's where the similarities between Obamacare and MealEasy end."
"I recognize the need for affordable health care. I want the sick, elderly and low income earners to get the health treatments they deserve. However getting timely and affordable treatment is only one part of the solution," stated Borovan. "Most health care systems are not only very costly; they fail to address the root of sickness, disease and poor health."
A significant amount of money is invested in health care around the world. According to OECD Health Data 2008 in 2006 the US spent 15.3% of its GDP on health care and Canada 10.0%. Reports indicate that the federal budget US health care costs are one of the highest government expenditures among industrial nations. And, in Canada, although health care is free, the tax burden on Canadians is quite significant.
Borovan believes that the smartest way for the US to get out of its Obamacare dilemma is to help Americans from getting sick.
MealEasy.com offers a proactive approach to health care. It provides smart, simple and versatile meal management solutions - and preparation guides – to make it easy and affordable for families to prepare delicious, nutritious homemade meals.
"It's about healthier living and focusing more attention on the food we eat," said Borovan. "It doesn't have to be costly or difficult to prepare foods that are tasty and good for you."
There is no doubt that an improvement in health care will reduce the Nation's chronic diseases, decrease absenteeism and enhance workplace performance. This alone would translate into savings amounting to billions of dollars. Borovan believes that a proactive approach is also a cost effective one.
"We know it, you know it…but somehow our government officials can't pull all the pieces together," said Borovan. "Until they do, our objective is to give families the tools they need to stay healthy."
Borovan believes that if MealEasy can change the way North American's eat, Obamacare as well as other health care system would greatly benefit.
The MealEasy meal planning concept is not complicated. It takes the guesswork out of what to eat, and provides a sensible approach to a healthy and satisfying diet. It seems like an ideal solution for today's busy working men and women who need a quick and easy way to plan and prepare healthy meals. Users can select and prepare the foods they eat, and eliminate the stress and temptation around meal times.
------------------------------------------------------------------------
MealEasy.com (a brand of Noviden Technologies) is a family business owned and operated by George and Brent Borovan.
Since 2008, MealEasy.com has been on a mission to help and educate people about the foods they eat. They collaborate with health professionals and nutritional experts to ensure that nutritional guidelines are followed.
Much more than a recipe site, MealEasy will help you plan, shop and prepare deliciously healthy meals. All recipes are prepared by a certified chef and have been tested inside the MealEasy kitchen.
Users enjoy unrestricted use of the meal planner, automatic grocery list generator and an uncluttered advertisement free web application.
For more information contact:
George Borovan
Noviden Technologies Inc.
902 4520505
http://www.noviden.com
http://www.mealeasy.com