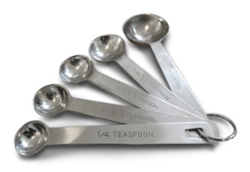 (PRWEB) April 08, 2014
Wrenwane are pleased to announce the addition of a new product to their range of kitchen utensils and gadgets. The product in question is the Wrenwane measuring spoons set (http://wrenwane.com/measuring-spoons/) which is something that has been designed to make the lives of those who cook or home bake on a regular basis a whole lot simpler.
The set comprises of five high quality mirror polished metal spoons, all secured together by a stainless steel ring. In fact, the whole set of measuring spoons are made from stainless steel, making them rust free and dishwasher safe. Not only are they easy to clean but they will last for as long as they are needed. This choice of materials and finish means that the spoons will stay looking as new as the day they were bought, well after they have become indispensable in any kitchen.
One of the key features of this new product that the Wrenwane representatives were keen to showcase was the engraving that has been etched into each of the spoons. This engraving indicates to the capacity of each spoon, with the aim of making adding a precise amount of an ingredient to a dish a simple process. "When cooking it can be really hard to work with small quantities of ingredients and ensure the correct amount is added. If the measurements used in a recipe book are in units that are an unfamiliar, or you just aren't sure what 2.5ml of sugar looks like for example, then the engravings on these spoons will remove the guesswork from your cooking" a Wrenwane product manager explained. "Each spoon in the set is a different size, and the individual sizes are engraved on each of the spoons so you can quickly see exactly how much they hold," he continued.
The five spoons in the set include those with the following capacities: tablespoon (15ml), ½ tablespoon (7.5ml), teaspoon (5ml), ½ teaspoon (2.5ml), and ¼ teaspoon (1.25ml). While a bunch of five spoons might seem like they would take up a lot space in the cutlery draw, a representative from the Wrenwane team was keen to point out otherwise: "Some people might wonder why they might need five separate spoons but having them in these sizes makes it even easier to get precise measurements of ingredients. The fact that this set of stainless steel measuring spoons all nest together to form a compact unit means that they hardly take up any space." The stackable design was certainly popular with those who have already purchased the set, with many positive reviews left by customers mentioning this fact when leaving feedback on a popular online retailer's website.
The Wrenwane team are so pleased with their new product and confident in its quality and abilities, that they are offering a lifetime no-hassle free replacement guarantee with each purchase of this set of stainless steel measuring spoons. For anyone who cooks and bakes on a regular basis, and wants something a bit more precise, higher quality, and longer lasting than the cheaper plastic alternatives out there, these newly launched measuring spoons from Wrenwane aim to be the product that fills that gap in the market.
For more details and to purchase the Wrenwane Measuring Spoons visit Amazon.com at http://www.amazon.com/Measuring-Spoons-Set-Attractive-Measurements/dp/B00ILXYY28