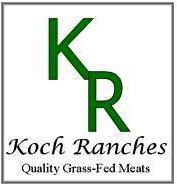 San Antonio, TX (PRWEB) November 15, 2013
Based on the growing trends and market demand for grass-fed beef, the USDA launched its first National Monthly Grass Fed Beef Report. It provides information on prices, commentary and intends to expand with additional information as market reporting participants grow. Please visit here for more information.
Koch Ranches has been family owned and operated for over 100 years and have been raising grass-fed beef for just as long. The Koch Ranches Gourmet Country Store offers fresh Texas produce, custom cuts of the healthiest meat in San Antonio and gourmet foods.
While grass-fed beef seems like a current trend, the Koch Ranches has understood the benefits to consuming grass-fed beef for years. Grass-fed beef has 10 times beta-carotene than beef not raised on grass, three times more vitamin E, two to six times more omega-3 fatty acids and three times more conjugated linoleic acid (CLA).
The Koch Ranches Gourmet Country Store is located at 2114 Mannix Drive San Antonio, TX 78217. They are open Friday 1 p.m. to 6 p.m., Saturday 9 a.m. to 5 p.m. and Monday 9 a.m. to 6 p.m. For more information on Koch Ranches, please visit their website, http://www.kochranches.net. Browsers will also find recipes and preparation tips.
About the company:
Koch Ranches, Inc. is a family business that is owned and operated by fifth-, sixth- and now seventh-generation Texas farmers and ranchers. The ranches are located in Medina and Frio counties, Texas and consist of over 4400 acres of lush pastures, including almost 400 acres of irrigated natural warm-season grasses and over-seeded winter grazing. Their irrigation wells are free-flowing artesian Edwards Aquifer wells that provide bountiful clear water for all-natural grass-fed animals and all-natural vegetable gardens and fruit orchards. Koch Ranches is committed to providing the healthiest, most nutritional lean meat available, with an unmatched delicious flavor. Over their family's generations, they have learned that the best way to raise animals is the way Mother Nature intended. For more information, please visit their website.