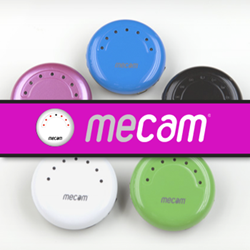 "We are excited to launch our social media platform as a way for MeCam fans to share their experiences on the web." - Drew Martin Founder of MeCam
Miami, FL (PRWEB) October 22, 2013
MeCam, a firm specializing in advanced Wearable Video Cameras, announced the launching of a prominent social media platform, YouTube, for clients seeking to share footage from their personal MeCams.
The prominent video sharing website is the largest and most popular on the internet, with a reputation for being the most reliable, accessible, and easy-to-use; subsequently, MeCam has promoted the use of YouTube for the convenience of its clients, even providing links through its official website at MeCam.Me.
Additionally, users have the option of using Vimeo, another reputable video sharing website, as well as Facebook. The use of these platforms highlights MeCam's explicit desire to provide clients with a personal and individualistic approach to video recording, with a particular emphasis on social and recreational functions.
MeCam is an innovative hands-free and wearable video camera that is designed to optimize versatility and ease of use. It can be pinned on a shirt, worn as a necklace, or pinned onto other objects in order capture video from that point of view.
Among its unique features are its small size, light weight, and the ability to shoot in low-light or dark conditions through Infrared (IR) LED lights built into the device. It records high quality video and can also shoot photos, at 720P HD and 5 megapixels, respectively. The MeCam can also be plugged into one's computer via USB to allow its images to be easily transferred or streamed.
MeCams were developed to allow users to record their lives or activities in a manner that was more natural and unique. The product, which can be ordered in bulk or customized, has become popular among a wide range of consumers, and will likely become more widespread in light of the video sharing capabilities.
About MeCam
MeCam is a proprietary, hands-free wearable video camera. MeCam was developed as a solution to easily capture your life on the go. From those crazy nights out on the town, to events and vacations, MeCam is the perfect device to have on you at all times to record your memories. It is a durable, lightweight, and inexpensive novelty camera. The MeCam culture is all about a fun, active lifestyle and capturing that life to share with your friends and family, or just to keep for yourself.
For more information visit MeCam: http://www.mecam.me/.