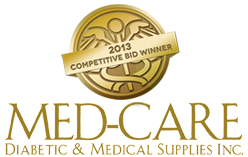 These contracts allow us to continue to serve our existing Medicare beneficiary patients to help manage their chronic conditions, as well as those who may be seeking a new provider, said Dr. Steve Silverman, founder and CEO of MED-CARE.
Boca Raton, Florida (PRWEB) September 25, 2013
MED-CARE Diabetic & Medical Supplies, Inc., a leading medical and pharmacy mail order supply company, has been awarded three-year contracts as part of the Competitive Bidding Program of the Centers for Medicare & Medicaid Services (CMS). MED-CARE won competitive bid contracts to provide sleep apnea supplies in 85 metropolitan areas and to provide respiratory and oxygen supplies in 84 metropolitan areas.
As the nation's largest mail order provider of sleep apnea, oxygen supplies and nebulizers, MED-CARE's proprietary compliance technology, combined with highly trained respiratory staff, gives MED-CARE the ability to provide unparalleled capacity and patient care. MED-CARE carries a full line of sleep apnea supplies, such as CPAP/BiPAP machines, full face, nasal and pillow masks, tubing and filters, as well as oxygen products such as stationary and portable oxygen units, nebulizers and respiratory medications.
Under the new competitive bidding process, MED-CARE has also been awarded a three-year contract to provide mail order diabetic testing supplies to Medicare patients nationwide and in the four U.S. territories (American Samoa, Guam, Puerto Rico, and the U.S. Virgin Islands).
Medicare recipients who want the convenience of having diabetic, sleep apnea or oxygen supplies delivered to their home will use one of the designated mail-order suppliers, such as MED-CARE, to be eligible for Medicare reimbursement. Medicare pays 80 percent of the cost for equipment and patients are responsible for the remaining 20 percent. As a key component of the Patient Protection and Affordable Care Act (PPAC), the Medicare competitive bidding programs are intended to save taxpayers billions over the next decade by reducing the number of suppliers and cutting down on waste in the distribution, billing and reimbursement of medical supplies. It is also expected that beneficiaries will save as a result of lower co-insurance and premium payments.
MED-CARE offers a full range of cutting edge products such as the SimplyGo Portable Oxygen Concentrator and Respironics sleep apnea machine. At just 10-pounds, SimplyGo Portable Oxygen Concentrator is the lightest Portable Oxygen Concentrator on the market to offer both Continuous Flow and Pulse-Dose oxygen delivery. Continuous Flow delivers a constant flow of oxygen, while Pulse mode detects when the user begins to take a breath and then delivers a pulsed volume of oxygen. SimplyGo has more than twice the oxygen output of any POC weighing ten pounds or less. SimplyGo is approved for use on commercial airlines by the FAA. Respironics sleep apnea machine contains a wireless modem that delivers timely, accurate patient information to your health care professionals. It allows for quick adjustments to pressure and other settings to achieve an ideal level of care based on sleep patterns, when the device is in use, and for how long. The device can also immediately report on leaking masks or any other problems.
ABOUT MED-CARE:
MED-CARE Diabetic and Medical Supplies is a leading medical and pharmacy mail order supply company, founded on the highest principles of patient care and service. MED-CARE helps patients manage their chronic conditions by providing cost-effective, high-quality products and services delivered directly to their homes.
Established in 1999 by Dr. Steve Silverman, the company has more than 500 employees and serves more than 250,000 patients from its headquarters in Boca Raton, Florida and distribution centers in Florida and Tennessee. MED-CARE is accredited by The Joint Commission (T.J.C), the most prestigious accrediting organization recognized by Medicare. Since its inception, MED-CARE has been an accepted provider for Medicare, Medicaid and hundreds of private insurance companies nationwide. The company follows Medicare billing guidelines meticulously. For more information on MED-CARE, visit http://www.medcareinc.com or call 1-888-777-0737.