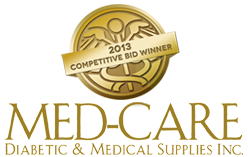 Boca Raton, Florida (PRWEB) September 10, 2013
MED-CARE Diabetic & Medical Supplies, Inc., a leading medical and pharmacy mail order supply company, is one of 20 companies that have been awarded three-year contracts as part of the Competitive Bidding Program of the Centers for Medicare & Medicaid Services (CMS). Under the new contract, MED-CARE will provide mail order diabetic testing supplies to Medicare patients nationwide and in the four U.S. territories (American Samoa, Guam, Puerto Rico, and the U.S. Virgin Islands).
"We're honored to be chosen as a nationwide provider of diabetic testing products. With the most comprehensive product line available among bid winners, MED-CARE is uniquely positioned to provide the highest level of patient service and supplies while containing costs," said Dr. Steve Silverman, founder and CEO of MED-CARE. "We have already opened a new, state-of-the art 15,000 square foot fulfillment center in Boca Raton and are hiring and training approximately 200 new employees to meet the expected uptick in demand for products."
Equipment such as blood glucose test strips, lancet devices and glucose control solutions and other Medicare Part B covered diabetic testing supplies are included in the national mail-order program and available direct from MED-CARE. The company carries a full range of products and brands, including LifeScan, Roche Diagnostics, Abbott Labs, Bayer and more.
The diabetic supplies program — Medicare's first national program — went into effect in July 1, 2013. Medicare recipients who want the convenience of diabetic supplies delivered to their home will use one of the 20 designated mail-order suppliers, such as MED-CARE, to be eligible for Medicare reimbursement. Patients can also choose to buy diabetic supplies in-person from participating drugstores as well. The new Medicare competitive bidding programs are intended to save taxpayers billions over the next decade by reducing the number of suppliers and cutting down on waste in the distribution, billing and reimbursement of medical supplies.
About MED-CARE:
MED-CARE Diabetic and Medical Supplies is a leading medical and pharmacy mail order supply company, founded on the highest principles of patient care and service. MED-CARE helps patients manage their chronic conditions by providing cost-effective, high-quality products and services delivered directly to their homes.
Established in 1999 by Dr. Steve Silverman, the company has more than 500 employees and serves more than 250,000 patients from its headquarters in Boca Raton, Florida and distribution centers in Florida and Tennessee. MED-CARE is accredited by The Joint Commission (T.J.C), the most prestigious accrediting organization recognized by Medicare. Since its inception, MED-CARE has been an accepted provider for Medicare, Medicaid and hundreds of private insurance companies nationwide. The company follows Medicare billing guidelines meticulously. For more information on MED-CARE, visit http://www.medcareinc.com or call 1-888-777-0737.