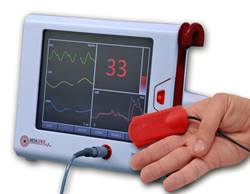 our devices and applications will enable clinicians and patients in all clinical settings and in their homes, to personalize their pain treatment and improve their treatment outcomes.
Tel Aviv, Israel (PRWEB) July 14, 2015
Medasense Biometrics Ltd., announced today the publication of a study in the prominent peer reviewed journal "Anesthesiology". The study validates Medasense's platform technology to objectively assess changes in a patient's physiological response to pain in the operating room.
Pain management, especially in the operating room where patients under general anaesthesia cannot communicate their pain, remains a major challenge. Each year 40% of U.S. surgery patients continue to suffer from severe pain after surgery. Furthermore, more than one in ten surgery patients suffer from side effects directly related to their pain relief medication, with associated hospital healthcare costs exceeding U.S. $20 billion per year.
To identify painful events in surgical patients under general anaesthesia, anaesthesiologists mainly use changes in heart rate (HR) and/or mean arterial blood pressure (MAP). As a result of using these general parameters, mild and moderate painful events from surgery are often not detected or detected too late, leading to overdose or under-treatment of pain during surgery. This makes understanding and identifying a patient's response to different intensities of pain, and to pain relief medication, crucial. With the new insight provided by the NoL Index, anaesthesiologists can optimize the pain treatment to minimize adverse events and improve patient outcomes.
The new study demonstrates the superiority of the novel NoL Index to identify different pain intensities compared with the current standard practice of measuring HR and MAP.
The results, which involved 72 patients under general anaesthesia in the operating room, demonstrated that the NoL Index was effective and significantly outperformed the parameters of HR and MAP in:

Identifying moderate and intense painful stimulation.
Differentiating between painful from non-painful events.
Correlating with the pain level under different concentrations of the pain relief analgesic, remifentanil, following painful stimulation.
"It is clear, that current pain assessment approaches in the operating room are limited", explained Professor Albert Dahan, Lead Principal Investigator, Department of Anaesthesiology, Leiden University Medical Center, Leiden, the Netherlands. "These results add to the growing body of clinical evidence supporting the validity of the NoL Index as a decision support tool to assist anaesthesiologists to objectively assess and optimize the treatment of a patient's nociception pain."
"Acceptance by one of the leading peer-reviewed journals in the pain field, Anesthesiology, confirms both the importance of this technology for the professional community, and validates our solution for the scientific community" said Galit Zuckerman, CEO of Medasense Biometrics. "Through our unique ability to accurately assess a patient's individual response to pain, our devices and applications will enable clinicians and patients in all clinical settings and in their homes, to personalize their pain treatment and improve their treatment outcomes."
About Medasense Biometrics Ltd.
Medasense Biometrics is a medical device company in the field of pain. Medasense's goal is to enable personalized pain management for patients suffering from acute and chronic pain. Medasense has developed a proprietary platform technology that enables clinician's to objectively assess changes in a patient's pain by monitoring multiple physiological parameters affected by pain or by pain treatment. The technology combines a non-invasive finger-mounted probe, that collects the physical data with artificial intelligence algorithms that converts this data into a real-time, continuous Index – the NoL (Nociception Level pain Index)™. The NoL Index can be presented either on a bedside monitor or on a mobile application with automatic connectivity to the cloud. For more information, visit: http://www.medasense.com.