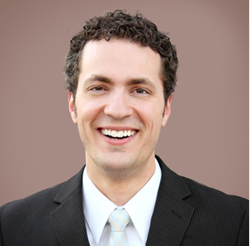 Dr. Pettit's passion and focus was immediately apparent. I'm confident he is going to be a great asset at MedCenter TMJ. -Dr. Ronald Auvenshine
Houston, Texas (PRWEB) June 25, 2014
MedCenter TMJ is expanding their team this July with the addition of Dr. Nathan J. Pettit, DMD, MSD. Dr. Pettit has been studying various dental specialties over the past seven years including his time in the Prosthodontic Residency Program at the Michael E. DeBakey VA Medical Center in Houston. During his residency there he had the opportunity to meet and study under Dr. Ronald Auvenshine.
After earning his Doctor of Dental Medicine degree, Dr. Pettit focused his training on implant and reconstructive dentistry as well as oral oncology. His work with veterans afforded him the opportunity to also study craniomandibular disorders, which quickly became his passion in the dental field. Dr. Pettit's dedication and work was recognized with an offer to head the VA Prosthodontic Resident Myofascial Pain Clinic under the direction of Dr. Auvenshine.
"Dr. Pettit's passion and focus was immediately apparent," says Dr. Auvenshine. "I greatly enjoyed mentoring him at the VA Prosthodontic Resident Myofascial Pain Clinic and working together on his post-graduate research. I'm confident he is going to be a great asset at MedCenter TMJ."
Dr. Pettit's achievements include receiving a Doctor of Dental Medicine degree from the University of Nevada Las Vegas School of Dental Medicine, graduating from the American Academy of Craniofacial Pain Mini-Residency program and being awarded a Master of Science in Dentistry from the University of Texas Health Science Center at Houston School of Dentistry.
At MedCenter TMJ Dr. Pettit will continue his work on the treatment of craniomandibular disorders and temporomandibular dysfunction. His goal is to continue enhancing his clinical and diagnostic skills under the mentorship of Dr. Auvenshine while improving the health of patients in and around the Houston area.
To learn more about Dr. Pettit, Dr. Auvenshine or MedCenter TMJ, please visit: http://www.medcentertmj.com.
About MedCenter TMJ
At MedCenter TMJ, Dr. Ronald C. Auvenshine and his team of medical professionals are helping patients that suffer from orofacial pain and temporomandibular joint disorders find relief. For more than 35 years Dr. Auvenshine has focused his practice solely on providing specialized treatment for craniomandibular disorders in order to give his patients the best care possible for their unique needs. Before opening his own private practice Dr. Auvenshine worked as a dental officer in the United States Army and as a faculty member at LSU School of Dentistry in New Orleans where he founded the Temporomandibular Joint (TMJ) and Facial Pain Clinic at the LSU School of Dentistry.