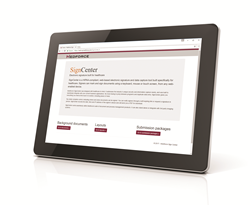 Being able to move [signature] to technology – it's all at my fingertips no matter where I am or what I need. Plus, having it all secured on a laptop is a lot safer.
Suffern, NY (PRWEB) February 28, 2017
Medforce Technologies, a leading provider of document and process management software, announced the official launch of SignCenter, the only electronic signature tool built specifically for the healthcare industry by a healthcare technology provider.
SignCenter was developed to address a gaping need in the modern healthcare company: obtaining signatures from a wide variety of individuals across a wide variety of settings without resorting to printing documents in an otherwise paperless office. With the ability to stand alone, integrate with your most used business applications, or be bundled with Medforce's suite of productivity solutions, SignCenter puts providers in control of the entire process from data consolidation and form creation to routing, capture, post processing, storage and retrieval.
"Signature capture in healthcare involves high volume, highly detailed forms, and complex workflows," explains Medforce's CTO Nathan Apter. "The process is fragmented, costly, and every step can lead to mistakes which lead to delays and denials. SignCenter's focus on the entire signature lifecycle reduces or eliminates errors, encourages deadline adherence, and lowers costs."
As a provider, users of SignCenter allow you to dictate the signing experience, determining where and when a document can be signed – and easily monitoring to ensure timelines are met. Signers can be remote or in-person and mark or sign documents using a keyboard, mouse or touch screen, from any web-enabled device.
Provider J&L Medical Services in Connecticut uses SignCenter for CPAP setups. Respiratory Therapist and Corporate Compliance Officer Rachel Kirchner notes, "I work across six locations and in patient homes. Before, everything was paper and cumbersome. Being able to move it to technology – it's all at my fingertips no matter where I am or what I need. Plus, having it all secured on a laptop is a lot safer."
"Most providers we talk to are still printing out forms for signature and then scanning or faxing them afterward," says Medforce VP of Sales, Steve Bainnson. "Paper gets lost, filled out incorrectly, requires manual data entry and causes billing errors that lead to lower reimbursement. Moving to SignCenter and implementing an electronic process adds control and visibility, increases productivity, improves compliance, and decreases time spent chasing paper."
To learn more about SignCenter's capabilities, please visit http://www.medforcetech.com/signcenter