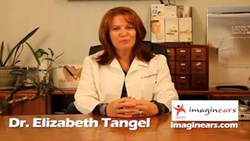 Your satisfaction with the hearing solution we recommend for you is of utmost importance to us.
Medford, Oregon (PRWEB) August 23, 2013
Medford Oregon Audiologist Dr. Elizabeth Tangel, owner of Imaginears, has produced a new video segment which will be featured on the company's website and YouTube channel and also run as a local television commercial. The video features Dr. Tangel asking and answering common questions about hearing loss with instructions for how to seek help in the Medford-area if you suspect a hearing loss.
The video includes many images from inside the Imaginears offices including the reception area, examination room and testing booth and is narrated by Dr. Tangel herself. One point of emphasis is that patients can try any hearing aid offered at Imaginears before purchasing it - a policy which greatly reduces patients fears about selecting the wrong hearing aid.
The Imaginears overview video ends with the practice motto - We listen, so you can hear!
Watch on YouTube at http://www.youtube.com/watch?v=rOjyysKneUk/.
About Dr. Elizabeth Tangel
Dr. Elizabeth Tangel received her master's degree in Audiology in 1993 from Sacramento State University in California. She received her doctoral degree in Audiology from A.T. Still University School of Health Sciences in Arizona in 2008. She worked for an ear, nose and throat clinic in Yakima, WA for seven years before moving to the Rogue Valley in 2000. Dr. Tangel enjoys educating her patients about hearing loss and in addition to offering the most advanced treatment options. She particularly likes combining her computer skills with the art of audiology in fitting patients with the most advanced hearing aid technology and getting the instrument adjustments just perfect for each patient. Dr. Tangel is a member of the Academy of Doctors of Audiology and continues to further her education by attending seminars and training on a regular basis.
About Imaginears, Inc.
The mission statement at Imaginears, Inc. is to provide the communities of Medford and Ashland, Oregon with the best quality hearing care possible. The audiologists and support staff at Imaginears are committed to serving their patients with kindness and compassion and always working together with patients and families to devise the best solutions. If that solution includes hearing aids, Imaginears is committed to recommending the technology that works best for your level of hearing loss, compliments your lifestyle and fits within your budget.
Contact
Dr. Elizabeth Tangel
http://imaginears.com
Imaginears, Inc.
42 Hawthorne St.
Medford, OR 97504
(541) 210-9648
Imaginears, Inc.
1875 Hwy 99 N, Suite 8
Ashland, OR 97520
(541) 855-3825