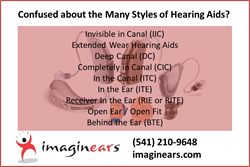 Medford, Oregon (PRWEB) October 19, 2013
The many distinct types of hearing aids and the many different abbreviations used to describe them make it tough for first time shoppers to perform research.To clear up some of the confusion, Imaginears released a user-friendly guide to common hearing aid styles and terminology on their website titled Hearing Aid Abbreviations, Types, Styles and Shapes.
The guide includes fundamental information on the most widespread Medford hearing aid styles including Invisible in Canal (IIC), Extended Wear Hearing Aids, Completely in Canal (CIC), In the Canal (ITC), In the Ear (ITE), Half Shell (HS), Receiver In the Ear (RITE) or (RIE), Open Ear / Open Fit, Behind the Ear (BTE) and Power
A side-by-side list of all the major hearing aid styles immediately reveals why shoppers often have difficulty making sense of the similar names and abbreviations. Imaginears hopes that the quick reference guide will help clarify some of the important differences between the various types of hearing aids. Once consumers understand the major types of hearing aids, the Audiologists at Imaginears encourage setting an appointment with a hearing care expert. A hearing care professional can deliver advice about which hearing aid models are best suited for an individual after discovering more about that person's activities and lifestyle and exactly where the hearing aid will be used most frequently.
About Dr. Elizabeth Tangel
Dr. Elizabeth Tangel received her master's degree in Audiology in 1993 from Sacramento State University in California. She received her doctoral degree in Audiology from A.T. Still University School of Health Sciences in Arizona in 2008. She worked for an Ear, Nose and Throat clinic in Yakima, WA for 7 years before moving to the Rogue Valley in 2000. She particularly likes combining her computer skills with the art of Audiology in fitting patients with the most advanced hearing aid technology and getting the instrument adjustments just perfect for each patient. Dr. Tangel is a member of the Academy of Doctors of Audiology and continues to further her education by attending seminars and training on a regular basis.
About Imaginears, Inc.
Imaginears' mission is to provide the best quality hearing care possible. The audiologists and support staff at Imaginears are committed to serving their patients with kindness and compassion and always working together with patients and families to devise the best solutions. If that solution includes hearing aids, Imaginears is committed to recommending the technology that works best for your level of hearing loss, compliments your lifestyle and fits within your budget. Imaginears is a recognized leader in hearing protection, hearing loss diagnostics and fitting of hearing aids in Medford and Ashland Oregon.
Contact
Dr. Elizabeth Tangel
http://imaginears.com
Imaginears, Inc.
42 Hawthorne St
Medford, OR 97504
(541) 210-9648
Imaginears, Inc.
1875 Hwy 99 N, Ste 8
Ashland, OR 97520
(541) 855-3825