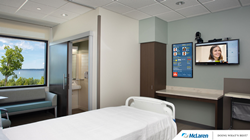 "Our goal was to achieve the highest levels of patient safety… MEDI+SIGN was the clear choice, and we are excited to adopt MEDI+SIGN into our building projects, starting with McLaren Northern." - Rich Reamer, McLaren Health Care Clinical Engineering Regional Manager, Northern Region
SMITHSBURG, Md. (PRWEB) July 13, 2021
MEDI+SIGN®, a healthcare technology company that provides automated communication to the patient's bedside, announces that McLaren Health Care has chosen MEDI+SIGN to become the standard across the McLaren Health Care network of hospitals. Headquartered in Grand Blanc, Michigan, McLaren Health Care includes 15 hospitals in Michigan and Ohio, ambulatory surgery centers, imaging centers, a 490-member employed primary and specialty care physician network, and commercial and Medicaid HMOs covering more than 640,000 lives in Michigan and Indiana, and they operate Michigan's largest network of cancer centers and providers. Committed to quality, evidence-based care, and cost efficiency, McLaren facilities and physicians are consistently recognized for their dedication to their patients and the communities which they serve.
Award-winning McLaren Northern Michigan is the first facility to deploy the MEDI+SIGN solution in its 202-bed regional referral center located in Petoskey. This is a part of the recent building project at McLaren Northern Michigan being referred to as "Building the Future of Health Care", in which a new tower was added, current rooms are being renovated, and the entire facility will be outfitted with the most advanced technologies and more streamlined services. The new "Offield Family Pavilion" features a 182,000 square foot new hospital wing with the addition of an expanded 24-bed Intensive Care Unit, 34-bed Cardiac Vascular Unit, 34-bed Med-Surg Unit and 12 Observation rooms. In addition to the implementation of MEDI+SIGN's full suite of offerings in the new wing, Northern is also rolling out with MEDI+SIGN throughout the rest of the existing house including several other inpatient units as well as the Emergency Department.
"Our guiding principle, 'doing what's best', helped to inform our design decisions along the way," says Rich Reamer, McLaren Health Care Clinical Engineering Regional Manager, Northern Region (Petoskey, Cheboygan, Mount Pleasant, Bay City, West Branch, Bad Axe, Caro). "We went to great lengths to identify the best solution on the market. Every aspect of the design is based on research. Our goal was to achieve the highest levels of patient safety, respect for patients and families, and quality medical care. MEDI+SIGN was the clear choice, and we are excited to adopt MEDI+SIGN into our building projects, starting with McLaren Northern. With MEDI+SIGN, patients, family, and staff have immediate access to critical information, which is key to a successful patient experience."
The implementation of MEDI+SIGN at McLaren Northern Michigan is a field-proven, three-part solution that offers focused communication enhancements while substantially reducing staff workload. First, MEDI+SIGN digital patient room whiteboards replace the traditional dry-erase boards in the patient rooms. Second, digital hallway door displays improve staff communication while cleaning up the aesthetics by replacing outdated paper signage and magnetic strips on the door frames with a strategically touch-free, HIPAA and ADA compliant solution. Finally, digital nurse station monitoring displays communicate updated and accurate patient information to the staff, including proactive patient safety information and staff assignments. All three parts of the MEDI+SIGN solution are fully integrated with Cerner®, McLaren's electronic medical record (EMR), as well as their smart communications platform, RTLS, and smartbeds, to display real-time data to clinicians, patients, and their families.
With MEDI+SIGN, McLaren Health Care supports its commitment to the following standards:

Safety. Accurate and real-time communication displayed on digital patient room whiteboards reduces reported sentinel events. Staff-facing digital door displays present information concerning allergies, isolations, dietary restrictions, core measures, or other precautions to the healthcare team.
Excellence. Displaying information directly from the EMR elevates the practitioner's diagnosis and objective patient data, resulting in an improved environment of quality and accountability.
Respect. MEDI+SIGN keeps the patient, family members and supportive friends informed with real-time patient and staff information in an easy-to-understand format.
Value. MEDI+SIGN digital nurse station monitoring displays update the care team on rounding status, key patient safety indicators and acts as a quick reference for patient names, room and staff assignments, as well as potential isolations.
Efficiency. The implementation of MEDI+SIGN allows for more opportunities to create operational and workflow efficiencies across administrative, clinical, and informatics teams.
"The McLaren project is a real technology showcase," says David Linetsky, Founder/CEO of MEDI+SIGN. "Including MEDI+SIGN in the project, demonstrates McLaren's commitment to communication, service and collaboration. We are thrilled to partner with McLaren Health Care in their mission to provide excellence in health care utilizing state-of-the-art technologies."
About McLaren Health Care
Headquartered in Grand Blanc, Michigan, McLaren Health Care is a fully integrated health network committed to quality, evidence-based patient care, and cost-efficiency. The McLaren system includes 15 hospitals in Michigan and Ohio, ambulatory surgery centers, imaging centers, a 490-member employed primary and specialty care physician network, commercial and Medicaid HMOs covering more than 640,000 lives in Michigan and Indiana, home health, infusion and hospice providers, pharmacy services, a clinical laboratory network, and a wholly-owned medical malpractice insurance company. McLaren operates Michigan's largest network of cancer centers and providers, anchored by the Karmanos Cancer Institute, one of only 51 National Cancer Institute-designated comprehensive cancer centers in the U.S. McLaren has 28,000 full, part-time and contracted employees and more than 90,000 network providers throughout Michigan, Indiana and Ohio. https://www.mclaren.org
About McLaren Northern Michigan
Located in Petoskey, McLaren Northern Michigan serves residents in 22 counties across northern Lower Michigan and the eastern part of the Upper Peninsula. More than 230 physicians represent nearly all medical and surgical specialties, enabling full-service care with an emphasis on cardiology, cancer, orthopedics, and neurosciences. McLaren Northern Michigan is a certified Primary Stroke Center, as designated by the Joint Commission. The hospital has a network of primary care providers and specialty care clinics throughout the region and an outpatient surgery center in Cheboygan.
About MEDI+SIGN
MEDI+SIGN is a game-changing communication tool used by hospitals that are pursuing the creation, improvement, and sustainability of their quality and safety goals. Driven and perfected by evidence-based outcomes, MEDI+SIGN deploys strategies tailored to the hospital's specific needs and existing workflows. This unique approach allows hospitals to experience quality and safety transformations without negatively impacting the day-to-day workflow of staff. MEDI+SIGN is the first and only patient-facing technology in its class that requires zero effort from clinical staff while reinvesting time back to the bedside. With patient experience and complex psychology at the epicenter of this technology, patients are kept informed, satisfied, and safe. Beyond patient experience, MEDI+SIGN focuses on improving HCAHPS and increasing patient safety by preventing falls as well as other sentinel events related to HAC, among other CMS programs. To experience these results for yourself, visit https://medisigndisplays.com.
Cerner is a registered trademark of Cerner Corporation