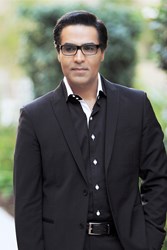 It is a time of cool changes and surprises.
(PRWEB) January 29, 2014
Representatives of Media81 Group announced today that they have completed the new website design for Persian music icon, Omid Soltani.
"It is a time of cool changes and surprises, with a new website and so many great news and concerts steam up the January energy we already have," said Kevin Sade, creative director of Media81 Group.
Along with a complete listing of tour dates, including his upcoming world tour, omidsoltanimusic.com features a comprehensive discography of Soltani's musical career, a newly-written bio, extensive photo gallery, music player, and his most recent collaboration with Thomas Andres from Modern Talking "We Are One".
Kevin Sade said Media81 Group is pleased to have been chosen to create a new website for Omid Soltani's official website.
Omid performed over 100 sold out concerts worldwide in famous venues such as Los Angeles Gibson Amphitheatre, Las Vegas Mandalay Bay Hotel & Casino, The Venetian Las Vegas, Caesars Palace Las Vegas Hotel & Casino, Paris Las Vegas Hotel and Casino, Foxwoods Resort Casino, Orange County Bren Events Center, Washington Warner Center, Lisner Auditorium | The George Washington University, Washington Warner Theatre, New York Queens College, Toronto The International Centre, Vancouver Queen Elizabeth Theatre, ARENA Oberhausen, Arena Koln, Arena Hamburg, CCH Arena, Stockholm Globe Arenas, London Le Ple, London Empire, Sydney Opera House, Dubai Aviation Club, Dubai Tennis Stadium, Antalya Acik Hava & much more.
Omid means hope; he cares about people and helps them on daily basis. Omid is working on his new foundation to provide education for children living in poverty. He has performed in several charity events to raise money for kids, he has worked with Cardio Star Foundation to cover the cost of 12 successful heart operations.
Omid has released eight albums and several singles during his music career, he is fluent in English, Farsi and Turkish, he has worked with well known International/Persian music composers such as Jahanbakhsh Pazooki, Sadegh Nojouki, Mohammad Heydari, Hasan Shamaeizadeh, Kazem Alemi, Mohammad Moghaddam, Masoud Amini, Homa Mirafshar, Mina Jalali, Jacklin, Masoud Fardmanesh, Homayoun Houshiarnejad, Shahyar Ghanbari, Ardalan Sarfaraz, and Babak Radmanesh .
Omid collaborated with mega superstar Thomas Anders from Modern Talking, the song is called "We Are One" and features a fantastic music video by director Alec Cartio. It's been shot in multiple cities across the world. He signed a recording contract with Sony and Warner Chappell for his latest hit.Omid is known as one of the Top 10 successful young Superstars in Persian music industry.
About Media81 Group
Media81 Group is a professional advertising company located in greater Los Angeles, California. We provide our services for selective clients in United States. Here at Media81 Group, we believe that an outstanding advertising will be more effective when we combine a client's brilliant ideas with our designers/directors creativity and knowledge.
Media81 Group features an integrated local team of directors, web consultants, creative designers, writers, programmers and marketing professionals that know how to get results. Creativity, extra oriented designs and solid business principals are the foundations of our company, we are dedicated to our clients, not because we "have" to, but because we "love" to promote you! We make sure! Media81 generates media attention and name recognition with memorable flair. With experience and expertise that are unmatched, and with media connections that span multiple industries and markets, we bring our clients to the world. And we leave the world wanting more.
Contact Details:
Kevin Sade
Media81 Group
433 N. Camden Dr. Suite 600
Beverly Hills, CA 90210, USA
Tel: 310.728.6000
Fax: 888.283.2839