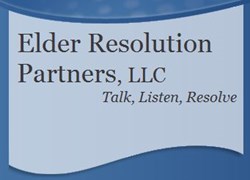 Not all families are prepared for these responsibilities and many don't know their options or find that they don't agree with each other about which options best serves their family's needs. —Cynthia Saffir
Los Angeles, California (PRWEB) August 30, 2013
Elder Resolution Partners, LLC is a Southern California based company that provides elder family mediation services aimed at helping families resolve their conflicts and make a plan, as a family, for the care and well being of their senior family members. The company has started a blog (http://www.eldermediationsocal.com) which features articles to help families see that they are not alone when making tough decisions and that there are many resources available to them to help inform them and make decisions.
Cynthia Saffir, elder family mediator and co-founder of Elder Resolution Partners, LLC, explained that, "As the size of the elderly population in the United States increases at an unprecedented rate, more and more families are faced with making critical decisions with or for their parents or other loved ones about their care and well-being." She added, "Not all families are prepared for these responsibilities and many don't know their options or find that they don't agree with each other about which options best serves their family's needs."
Elder Resolution Partners' blog will feature articles about such topics as: when it is alright to ask for help; what are the various types of living communities available if my parent wants or needs to move out of his or her home; how do we start family conversations about health care and end of life planning; how do we resolve our differences without ending up in court?
Cynthia Saffir, a graduate of Loyola Law School in Los Angeles, practiced law for over 30 years before she, Julie Ware and Marci Barrett decided to help families navigate through challenging transitions occasioned by the aging of a loved one. The three elder family mediators founded Elder Resolution Partners, LLC to provide families with a safe, confidential environment within which to have structured, facilitated conversations to address the various issues the family is facing. Cynthia and her co-founders at Elder Resolution Partners, LLC, believe that family conflicts should, whenever possible, be resolved "in the living room rather than in the courtroom."TM
About Elder Resolution Partners, LLC
Elder Resolution Partners are experienced, specially trained elder family mediators dedicated to helping families resolve disputes, communicate effectively and reach agreement about how to move forward as a family caring for an aging loved one. We guide and structure the conversation to ensure that all participants can express their concerns about the elder's care and well-being, and participate in crafting a plan that works best for the family. Elder Resolution Partners, LLC serves families throughout Southern California with offices in Los Angeles, Sherman Oaks and Monrovia.