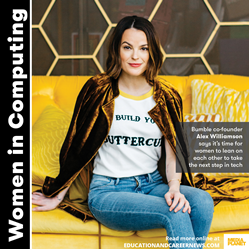 37 percent of undergraduate computer science students were female in 1984. By 2018, that number had shrunk to roughly 18% of students.
NEW YORK (PRWEB) March 27, 2019
Wrapping up Women's History Month, Mediaplanet today announces the launch of this March's first edition of "Women in Computing." This campaign will educate and empower young women about the need for innovative leaders and growing opportunities that come with pursuing a career in the computing and technology industries. We are also showcasing leading organizations that are dedicated to closing the gender disparity in the industries through diversity, mentorship and inclusion initiatives.
According to the National Center for Women and Information Technology (NWCIT), 37 percent of undergraduate computer science students were female in 1984. By 2018, that number had shrunk to roughly 18% of students. What changed? As computer science departments grew and the field became more prestigious, the industry looked to other engineering disciplines, which consisted of mostly men. While women represent roughly half the workforce in the United States, they still only account for about a quarter of STEM-related jobs.
While some young girls show interest in coding and computer-related areas at an early age, they are pushed out of those areas the ages of 13-17. The reasons range from peer pressure to a lack of role models and support to a general misperception of what STEM careers look like in the real world. By encouraging and educating girls about the professional development, success and growing opportunity that comes with a career in computing and technology, more women can enter the field, and create a diverse working environment.
The print component of "Women in Computing" is distributed within today's edition of the San Francisco Chronicle, with a circulation of approximately 140,000 copies and an estimated readership of over 400,000. The digital component is distributed nationally through a vast social media strategy and across a network of top news sites and partner outlets. To explore the digital version of the campaign, click here.
One of Bumble's Co-Founding members, Alex Williamson, graces the cover of the print publication. Through an exclusive interview, Alex talks about the importance of why the tech industry needs women, and significant impact of representation and mentorship. "If you only have one gender designing solutions in tech, it will inherently create missed opportunities and gaps in the marketplace," she tells Mediaplanet. "Representation and mentorship are so important. When women see other women in leadership and tech roles, it's easier for a young woman to see herself in those shoes. We've spoken with many women who have excelled in male-dominated fields, and it's been so clear how mentorship has made an impact on their careers."
She adds: "One of the most important things that we can do for the next generation of women is to create a seat at the table for them. We need to be promoting fearlessness in women in business and reminding women that they can and should get involved in tech."
This campaign was made possible with the support of the National Center for Women and Information Technology, Women in Technology International, AnitaB.org, Girls in Tech, IEEE Computer Society, Computing Research Association, Girl Scouts of Northern California, The Computer Science Teachers Association, Code.org, Iridescent Learning, Women's Society of Cyberjutsu, Avast, Google, Ad Council, Raytheon, Nova Southeastern University, UC Davis and the University of Chicago.
About Mediaplanet
Mediaplanet specializes in the creation of content marketing campaigns covering a variety of industries. We tell meaningful stories that educate our audience and position our clients as solution providers. Our unique ability to pair the right leaders with the right readers, through the right platforms, has made Mediaplanet a global content marketing powerhouse. Our award-winning stories have won the hearts of countless readers while serving as a valuable platform for brands and their missions. Just call us storytellers with a purpose. Please visit http://www.mediaplanet.com for more on who we are and what we do.
Press Contact:
Samantha Coppola
samantha.coppola(at)mediaplanet(dot)com
(646) 619-0195