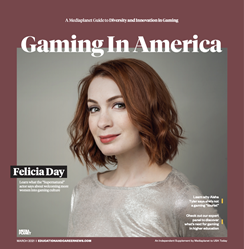 75 percent of Americans say they have at least one video game player in their household. The evolution of gaming has been one of the most rapid shifts in any entertainment art form.
NEW YORK (PRWEB) March 26, 2021
Mediaplanet today announces the launch of its cross-platform campaign "Gamin in America." This campaign breaks down the stereotypes of underserved minorities in the gaming community and shows the incredible achievements this industry has made in entertainment and technology. It also highlights the organizations who are moving the industry forward, creating opportunities for diversity, and cultivating safe, inclusive entertainment for all users.
Gaming's popularity has certainly swept the United States; 75 percent of Americans say they have at least one video game player in their household. The evolution of gaming has been one of the most rapid shifts in any entertainment art form. Despite not existing until the latter half of the 20th century, technology has improved so significantly since then that video games have come to represent the bleeding edge of human ingenuity. The same technology that powers Fortnite is now being used in blockbuster films and TV shows to create even more awe-inspiring worlds, and scientific simulations rely on the GPUs invented to make games look so shiny.
While the video gaming industry has made incredible strides to not only increase the quality of their games, but to create entertaining outlets for all ages and demographics, one of the most jarring statistics holding this industry back is the lack of diversity. Data from the International Game Developers Association shows that while 49 percent of all gamers are female, only 24 percent of game developers are women, and an even more shocking only 2 percent identify as Black.
This campaign aims to break down the stereotypes that have plagued many gamers and professionals in the industry, and replace them with inspiring role models that are supporting diversity in gaming, and using their platform to uplift the next generation of gamers and creators.
The print component of "Gaming in America" is distributed within today's edition of USA Today in the New York, Los Angeles, Chicago, Houston, Seattle, Las Vegas, D.C./Baltimore, and Philadelphia markets, with a circulation of approximately 200,000 copies and an estimated readership of 600,000. The digital component is distributed nationally through a vast social media strategy, and across a network of top news sites and partner outlets. To explore the digital version of the campaign, visit educationandcareernews.com/campaign/gaming-in-america.
Featured on the cover of the print campaign is Felicia Day, star of "Supernatural" and "The Magicians," and also an avid gamer and influencer in the gaming world. In an exclusive interview, she shares the steps she hopes to see the gaming industry take to improve its diversity. "I'd love to see more responsibility amongst the social media and front-facing personnel of those companies, too, drawing the line at harassment and hate speech in very clear ways," Day said. "A culture is created by what it allows and encourages. Take responsibility for the world you create around your virtual worlds, and it will pay off in helping diversify your fanbase."
About Mediaplanet
Mediaplanet specializes in the creation of content marketing campaigns covering a variety of industries. We tell meaningful stories that educate our audience and position our clients as solution providers. Our unique ability to pair the right leaders with the right readers, through the right platforms, has made Mediaplanet a global content marketing powerhouse. Our award-winning stories have won the hearts of countless readers while serving as a valuable platform for brands and their missions. Just call us storytellers with a purpose. Please visit http://www.mediaplanet.com for more on who we are and what we do.
Press Contact:
Joanna Tronina
joanna.tronina@mediaplanet.com
646-619-3516