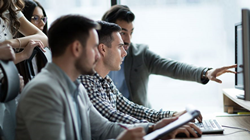 "The cross-platform campaign advocates for an increased emphasis on overall employee health, engagement, and benefits."
NEW YORK (PRWEB) September 10, 2019
Using the expertise of industry leaders to explore solutions to problems facing the ever-changing corporate landscape, Mediaplanet today announces the launch of its September, open enrollment edition of their campaign, "Employee Benefits and Engagement." With topics ranging from the importance of candid one-on-one conversations, ideas for improving wellness initiatives, investing in smoking cessation activities, how continuous learning and development for employees and management is key to employee engagement, to the importance of transparency around pay equity, the campaign shows how companies can thrive when they invest in the wellbeing and success of their employees.
The cross-platform campaign advocates for an increased emphasis on overall employee health, engagement, and benefits. By partnering with the HR industry's most prominent thought leaders, the included stories highlight the importance for employers to expand employee benefits and development programs, implement HR efficiencies, and improve wellbeing solutions. Its ultimate aim is to help managers and HR professionals cultivate a happier, healthier, and more developed workforce, all while boosting company engagement, which improves retention and allows for the professional growth of top talent.
In the campaign, Matthew Brown, vice president of learning and brand success at Schoox, discusses the changes occurring in the workforce, like performance management shifting away from the point-in-time evaluations. In addition, he emphasizes the important connection between learning and performance, and why companies should be incorporating the two simultaneously. "The Brandon Hall Group reports that fewer than half of companies effectively link learning to performance. Yet, connecting the two provides a line of sight into employee skills, knowledge, and competency gaps. Companies are able to demonstrate their commitment to growth and career opportunities — increasing engagement, retention, and attracting more talent." Read more here.
The print component of "Employee Benefits & Engagement" is distributed in today's edition of USA Today New York, Los Angeles, Chicago, Houston, San Francisco, Las Vegas, Washington DC, Baltimore, and Philadelphia. In addition, it will be distributed at several industry-focused conferences, including the HERO Forum this weekend, SHRM Inclusion, ATD's Core 4 Conference, HRSouthwest, the HR Technology Conference & Expo, WorldatWork 2020 Total Rewards Conference, and more. The digital component is distributed nationally, through a vast social media strategy, and across a network of top news sites and partner outlets. To explore the digital version of the campaign, click here.
This campaign was made possible with the support of the Society for Human Resource Management, WorldatWork, Health Enhancement Research Organization, National Alliance of Healthcare Purchaser Coalitions, Integrated Benefits Institute, Midwest Business Group on Health, Association for Talent Development, DallasHR, WELCOA, Human Resource Executive Magazine, National Business Group on Health, Human Resource Executive Magazine, Paychex, the American Heart Association, WorkPartners, CareerArc, Paragon Relocation Services, Vaxserve, DeVryWORKS, Desktime, Carrot.co, International Coach Federation, EE Incentives, Marketplace Chaplains, and Schoox.
About Mediaplanet
Mediaplanet specializes in the creation of content marketing campaigns covering a variety of industries. We tell meaningful stories that educate our audience and position our clients as solution providers. Our unique ability to pair the right leaders with the right readers, through the right platforms, has made Mediaplanet a global content marketing powerhouse. Our award-winning stories have won the hearts of countless readers while serving as a valuable platform for brands and their missions. Just call us storytellers with a purpose. Please visit http://www.mediaplanet.com for more on who we are and what we do.
Insert Press Contact:
Rebecca Levine
Rebecca.levine@mediaplanet.com
646-755-7966