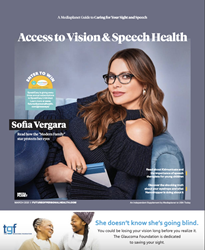 NEW YORK (PRWEB) April 09, 2021
As National Save your Vision Month concluded, Mediaplanet is proud to have launched its "Access to Vision Health" Campaign this past March. This campaign has raised awareness for the dangers of Myopia, Glaucoma, and other ocular diseases and feature the leading solutions that help protect vision health. This campaign also encourages Americans to take their vision health seriously this year by providing our readers with the organizations and resources that are ensuring safe and regular vision care during this time period.
While 80% of all vision impairment is considered avoidable, only half of Americans visited an eye doctor in the past 12 months. Early detection and timely treatment of eye disease and conditions such as glaucoma and myopia has been found to be significantly more efficacious and cost effective. The editorials from the All About Vision Foundation, Caregiver Action Network, and Orbis International articulate the urgency for regular vision checks for people of all ages as many Americans are canceling regular exams due to COVID concerns. Their contributions on this important publication showcase why it's vitally important to stay on top of preventative eye exams as well as eye disease treatment.
While the first half of the print publication articulates the ways to prevent eye disease, the latter half directly addresses the leading treatments for those living with eye disease as well as their efforts to dismantle traditional as barriers to quality care. With the support of Glaukos and The Glaucoma Foundation, the campaign establishes the importance of equitable access to eye care for black and latinx communities who are genetically predisposed to glaucoma. As the prevalence of glaucoma increases across the globe, it is more urgent than ever to highlight top therapeutic treatments available who also prioritize a commitment to racial justice for traditionally underserved communities. With contributions from renowned Ophthalmologist, Dr. Jay Katz, we are honored to feature Glaukos as a pioneering leader in the ophthalmic community advancing eye-care standards throughout the pandemic.
In addition to the featured glaucoma section medical solutions, this campaign offers key thought leadership and educational resources on Myopia, a national health crisis that is hiding in plain sight. With contributions from The American Association of Pediatric Ophthalmology and Strabismus (AAPOS), The OneSight Foundation, and The American Academy of Ophthalmology (AAO), we educate our readers on this urgent public health issue. On our current course, it's believed that one in every 10 people will have high myopia by 2050. But there's a silver lining: With proper diagnosis, possible medical treatment and a few lifestyle changes, we can slow or stop myopia's progression. Our key partners such as SONY, Alternative Eyewear, and Eyes Are The Story, all offer different solutions to optimizing eye health and wellness with an increase in screen time and round out the comprehensive scope of the campaign by showing ways to live well and safely in the digital age.
Find the full digital campaign here.
About Mediaplanet
Mediaplanet specializes in the creation of content marketing campaigns covering a variety of industries. We tell meaningful stories that educate our audience and position our clients as solution providers. Our unique ability to pair the right leaders with the right readers, through the right platforms, has made Mediaplanet a global content marketing powerhouse. Our award-winning stories have won the hearts of countless readers while serving as a valuable platform for brands and their missions. Just call us storytellers with a purpose. Please visit http://www.mediaplanet.com for more on who we are and what we do.
Insert Press Contact:
Caroline Dranow
Senior Publisher MP
caroline.dranow@mediaplanet.com
203-957-2774