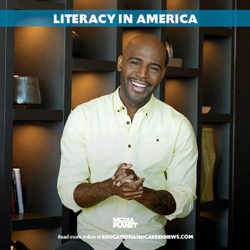 "When they're curious about books, they'll get exposed to the world and the things around them they might never have seen, but in a way that's going to be healthy and foster growth in them."
NEW YORK (PRWEB) December 17, 2019
Mediaplanet today announces the launch of its cross-platform campaign 'Literacy in America.' This campaign will advocate for increased awareness of literacy and the role it plays in a successful future, educate the public on the available resources for those who struggle with reading and foster dialogue about the best ways to manage dyslexia.
America is facing a literacy crisis. More than 36 million adults in the United States cannot read, write, or do basic math above a third-grade level. On top of that, children whose parents have low literacy levels have a 72 percent chance of being at the lowest reading levels themselves. These kids are more likely to get poor grades, display behavioral problems, have high absentee rates, repeat school years, and drop out. Between gaps in literacy instruction and curriculum, to access to the appropriate resources, so much needs to be done to empower and prepare our next generation of parents and educators for a prosperous, fulfilling future.
The print component of "Literacy in America" is distributed within today's edition of USA Today in the New York, Los Angeles, San Diego, Las Vegas, Seattle, Atlanta, Boston, Dallas, and Chicago markets, with a circulation of approximately 200,000 copies and an estimated readership of 600,000. The digital component is distributed nationally through a vast social media strategy, and across a network of top news sites and partner outlets. To explore the digital version of the campaign, visit https://www.educationandcareernews.com/campaign/literacy-in-america/
Karamo, the culture expert on Netflix's "Queer Eye," is on the cover of the print edition. In it, he talks about how he's always loved reading and how he's now inspiring others to read with the two books he's written. In an exclusive interview, Karamo reveals why he believes all children should pick up a book and read. "When they're curious about books, they'll get exposed to the world and the things around them they might never have seen, but in a way that's going to be healthy and foster growth in them," he says.
This campaign was made possible with the support of The American Library Association, National Parent Teacher Association, American Dyslexia Association, Learning Disabilities Association of America, Campaign for Grade Level Reading, Karamo, Henry Winkler, Chloe Lukasiak, Thorndike Press, Epic!, and Pina Publishing.
About Mediaplanet
Mediaplanet specializes in the creation of content marketing campaigns covering a variety of industries. We tell meaningful stories that educate our audience and position our clients as solution providers. Our unique ability to pair the right leaders with the right readers, through the right platforms, has made Mediaplanet a global content marketing powerhouse. Our award-winning stories have won the hearts of countless readers while serving as a valuable platform for brands and their missions. Just call us storytellers with a purpose. Please visit http://www.mediaplanet.com for more on who we are and what we do.
Press Contact:
Chloe Addleson
chloe.addleson@mediaplanet.com
(646) 619-3267