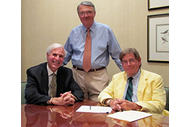 We all believe strongly that ADR and mediation is a powerful tool that is frequently more effective and less expensive than litigation, and we're looking to connect with people and businesses that need mediation guidance and advice. — Cornelius Smith
Southport, Connecticut and Bonita Springs, Florida (PRWEB) October 07, 2013
With more than 30 years of dispute resolution and legal experience, respected legal and mediation professional, Cornelius "Bud" Smith, announces his membership with the premier mediation network Mediation.com as a step towards connecting with a wider pool of potential clients.
"I semi-retired in 2010 after decades of success as an attorney and an alternate dispute resolution professional," Smith said, "but didn't want to stop helping people resolve their problems. That desire to help led me to found Strassner, Strelow & Smith with some of my oldest professional friends. We all believe strongly that ADR and mediation is a powerful tool that is frequently more effective and less expensive than litigation, and we're looking to connect with people and businesses that need mediation guidance and advice. That's why Mediation.com is a perfect fit for us."
Smith has co-authored the oil industry's international Offshore Pollution Liability Agreement (OPOL), which currently covers the first $120 million per incident of claims pertaining to spills from offshore drilling activities. He also served as Union Carbide's Environment, Health and Safety Vice President after the 1984 Bhopal, India toxic gas leak (the worst industrial accident in history). In this capacity, Smith participated in the Bhopal investigation and claims settlement process, and served as company spokesperson at many conferences around the world.
A graduate of New York University Law School, Smith has burnished decades of peerless work as a corporate attorney with first-class ADR certifications, including certification by the Supreme Court of Florida as a County Court Mediator, completion of the Supreme Court-approved Florida County Mediation Training Course, and completion of the Florida Gulf Coast University Alternative Dispute Resolution Certificate Course. Few ADR professionals sport such credentials, making Smith stand out.
Along with his partners Ken Strassner and Roger Strelow, Bud Smith offers not only decades of experience as an attorney, but also top-notch education in ADR techniques, making him an ideal choice for anyone seeking a fast, satisfactory resolution to any dispute or legal conflict.