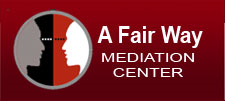 I believe everyone deserves the best possible mediation and arbitration services in a divorce or other dispute, no matter your lifestyle or situation. – Rich Gordon
San Diego, California (PRWEB) August 27, 2013
Mediation.com and leading mediation professional Rich Gordon have joined forces to offer Mediation.com's customers even more choice and alternative dispute resolution (ADR) resources. This will help bring Rich Gordon's world-class mediation and arbitration skills to a wider audience while solidifying Mediation.com's position as the premier online source for all ADR needs.
"Adding Rich Gordon to our membership is quite a coup," said Tom Pronesti, operations manager of Mediation.com. "A Fair Way Mediation Center in San Diego is already well-known as a world-class source for top-notch ADR services, including serving same-sex couples – an important segment of the population in need of ADR. Now we can help connect Rich with our customers who need him."
"I believe in equal treatment," Mr. Gordon said about the partnership. "I believe everyone deserves the best possible mediation and arbitration services in a divorce or other dispute, no matter your lifestyle or situation. Joining with Mediation.com is an extension of that belief, because it allows me to reach a much larger pool of potential clients – people who need help. That's why I was delighted to partner with Mediation.com, which is the standard for online mediation resources."
Mr. Gordon specializes in divorce mediation, but has also served as an arbitrator and mediator, as well as being a trainer and consultant to individuals, corporations, consensus builders, public organizations and foundations. A graduate of University of Kansas School of Law, he has decades of experience in both the law and in mediation. He is the principal mediator at A Fair Way Mediation Center, the premier mediation center in the greater San Diego area. A Fair Way handles both traditional married couples and same-sex couples with equal compassion and energy, and offers a free half-hour telephone consultation.
About A Fair Way Mediation
Serving San Diego Mediation for more than 20 years, A Fair Way Mediation has helped hundreds of couples settle their divorces in cost effective and mutual satisfying ways. An average litigated divorce in San Diego is around $20,000 and can easily exceed $100,000 or more. With San Diego mediation, at A Fair Way Mediation it is rare to exceed $5,000. Its principal mediator, Richard Gordon, has helped numerous people and organizations throughout San Diego to settle their difference through mediation.