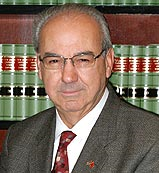 I've always believed strongly in the power of negotiation and mediation... My twenty years as a judge honed my mediation abilities; and now that I've retired from the bench, it seems natural to concentrate on mediation. - Anthony Sciuto
Fort Lee, NJ (PRWEB) November 26, 2013
After a remarkable career that has spanned decades in private practice as both a trial lawyer and a mediation expert as well as a twenty-year stint on the Superior Court of New Jersey, Anthony Sciuto has announced a fresh commitment to his mediation practice. Towards that end he has also announced his membership in one of the nation's fastest-growing online mediation network, Mediation.com.
"I've always believed strongly in the power of negotiation and mediation," said Mr. Sciuto. "When I was an attorney working in private practice, I always took the time to act as a mediator when it was appropriate and in my client's best interests. As a judge, I saw first-hand how powerful mediation can be – how it can avoid so much unnecessary expense and time in the courtroom. My twenty years as a judge honed my mediation abilities; and now that I've retired from the bench, it seems natural to concentrate on mediation."
During his tenure as Board of Education Attorney and City Attorney, Mr. Sciuto was involved in numerous mediations and arbitrations with municipal and school personnel involving hiring, termination, appointments, salary and benefit disputes, discrimination, civil rights matters, labor negotiations and public contracts.
Mr. Sciuto, for a 12 year period during his tenure as a judge, managed and presided over a large number of medical malpractice and related products liability cases. He also presided over and has significant experience in general civil cases, including contracts, personal injury, property damage, discrimination, environmental, and construction as well as many other miscellaneous matters that are litigated in the civil division.
In addition to his mediation work, Mr Sciuto is involved in seminars for attorneys in various legal education programs. He has been a guest lecturer at Felician College and is a Charter Member of the National Academy of Distinguished Neutrals, New Jersey Chapter.