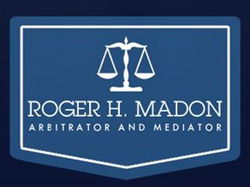 My goal is to help parties in dispute to appreciate the benefits of mediation and arbitration in resolving their conflicts regarding Labor and Employment Law, Environmental Law, or Business Transactions —Roger Madon
New York, New York (PRWEB) September 02, 2013
After more than four decades of experience serving the people of New York with expert legal advice and representation in the field of Labor and Employment Law, Roger H. Madon has recently launched his new website, http://arb-med.net.
From his service in the Peace Corps in the 1960s, through his representation of labor, employment, environmental and business concerns up to his service today as a mediator and arbitrator, Mr. Madon has sought to serve his community. The new website is designed to be a platform his ADR services.
"My goal is to help parties in dispute to appreciate the benefits of mediation and arbitration in resolving their conflicts regarding Labor and Employment Law, Environmental Law, or Business Transactions," Madon said. He added, "The new website was carefully designed to make it easy for people to find relevant information."
In addition to a full rundown of his qualifications and experience, the new site offers Roger's thoughts on mediation and arbitration issues, links to his blog and relevant news stories that impact ADR involving labor, employment, environmental disputes and business transactions. There is also included a detailed discussion of his offered services which concentrate on Arbitration and Mediation, Early Neutral Evaluation, and Discovery Dispute Resolution. And there is a page dedicated solely to his Fee Policies.
Roger H. Madon has been practicing law for 40 years and has appeared before Federal and State courts, Federal and State agencies on behalf of his clients. He is a member of the Labor and Employment Law and the Dispute Resolution Sections of the New York State Bar Association. He is a member of the American Arbitration Association, Labor Panel; FINRA Arbitrator; F.M.C.S. Arbitrator and Mediator.