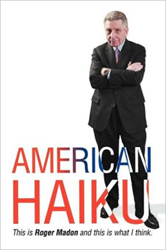 My hope is that my experience and whatever wisdom I've been able to accrue in three-quarters of a century on this earth can open up a discussion about these issues – because sharing ideas is the first step towards tackling these issues. - Roger Madon
New York, NY (PRWEB) January 16, 2014
After a legal career that has spanned four decades, and a life that has taken him around the world and seen him earn no fewer than four advanced degrees, legendary labor lawyer and mediator Roger Madon has published "American Haiku" through Author House. The book, available now on Amazon.com, is a collection of presentations made on radio and heard by millions of listeners.
"I love my country," said Madon about the book's release. "I love being an American. But this country is at war – and it's a war that's going to determine whether the greatest democratic experiment in history survives or fails. My hope is that my experience and whatever wisdom I've been able to accrue in three-quarters of a century on this earth can open up a discussion about these issues – because sharing ideas is the first step towards tackling these issues."
Each subject in the book can be read in two minutes, making it the ideal starting point for the most important conversation in our nation's history. A veteran speaker, Mr. Madon hosted a talk show on his blog for many years on the Paltalk News Network and is available for speaking engagements on a variety of subjects, including labor issues, employment, arbitration, mediation and conservative politics.