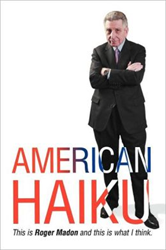 If the government controls speech, it will ultimately deny speech which criticizes the government. - Roger Madon
New York, NY (PRWEB) May 02, 2014
In the unexpected setting of Boynton Beach, Florida, two famous minds locked horns over the issue of free speech when Roger Madon, popular political commentator and author of "American Haiku," met Stanley Fish, famed academic and author of "There's No Such Thing As Free Speech and it's a Good Thing, Too" [Oxford University Press, 1994].
Fish made the argument that the First Amendment has been perverted to justify policies and actions that inhibit the goals of the progressive movement. He cited examples such as pornography, sexist language, and campus hate speech. He took the controversial stand that free speech protections should be under the discretion of the government for the betterment of society.
Madon conceded that some of the results of free speech protections were "abhorrent," such as snuff films or holocaust denial. He was unwilling, however, to place the government in charge of free speech, saying "If the government controls speech, it will ultimately deny speech which criticizes the government."
Fish rejected this argument, stating that the government is in a better position to judge what was best for society. The exchange of views was characterized as "lively," and included audience participation.