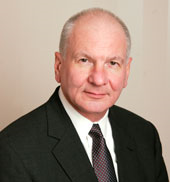 I've been practicing the law and acting as a mediator for 40 years. I've seen the damage, both emotionally and financially, that litigation as a conflict resolution tool can inflict on people and organizations. - Barry Szymanski
Milwaukee, WI (PRWEB) November 02, 2013
Attorney, mediation specialist, and community leader Barry W. Szymanski has announced his membership in the premier online mediation community Mediation.com. The move comes as part of an effort on the part of Szymanski to expand his online footprint and make potential clients aware of his experience and knowledge in the field of alternate dispute resolution.
"I've been practicing the law and acting as a mediator for 40 years," Szymanski said. "I've seen the damage, both emotionally and financially, that litigation as a conflict resolution tool can inflict on people and organizations. That's why I'm bringing new focus to my mediation services; so I can reach the people who can benefit most from an ADR professional with my experience and knowledge."
Szymanski has served in many private arbitrations and mediations for the American Arbitration Association, the Milwaukee Bar Association, and Better Business Bureau. In his law practice, he has represented many businesses, including corporations, limited liability companies and proprietorships throughout Wisconsin. Szymanski also has substantial civil and trial experience, an extensive background in negotiation, arbitration, mediation and other alternate dispute resolution methods.
Among his written online publications are a number of "What You Need To Know" booklets on his areas of legal practice which are free to download at his website: http://www.barrywszymanski.com/lawyer. These booklets can also be requested by sending an email to Paralegal-Laura(at)sbcglobal(dot)net or calling (262)797-8560. With his wealth of experience in alternative dispute resolution, Szymanski offers his "NewsNotes" which address specific legal issues, and his published articles relating to fire department and ambulance, employment and operational issues in the EMS Professionals Magazine's legal column.
Szymanski earned a BA with Distinction from St. Edward's University and a JD from Marquette University Law School. He is a licensed to practice in the State Bar of Wisconsin, the U.S. Seventh Circuit Court of Appeals and the U.S. District Courts, Eastern District and Western District of Wisconsin. As an active member of the Milwaukee and Wisconsin community, he has served on the City of Wauwatosa Board of Park and Forestry Commissioners and the Wauwatosa Chamber of Commerce Board of Directors, as well as a Certified Law Enforcement Officer (Detective Rank).