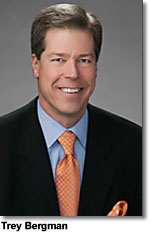 The cases I've helped resolve weren't simple and they weren't always polite – but they were invaluable to me as learning experiences. Every dispute I help to resolve teaches me a little more about how to get parties to cooperate. - Trey Bergman
Houston, TX (PRWEB) December 10, 2013
After mediating or arbitrating disputes collectively valued at over $4 billion over the last two decades, Houston attorney and mediation guru Trey Bergman announced his membership in Mediation.com, one of the nation's largest and fastest-growing online mediation networks. Bergman characterized his motivation for joining Mediation.com as a desire to offer his services to a wider client base.
"I've handled some of the most complicated business disputes ever recorded," said Bergman, "and I've served on over 60 arbitration panels in that time as well. The cases I've helped resolve weren't simple and they weren't always polite – but they were invaluable to me as learning experiences. Every dispute I help to resolve teaches me a little more about how to get parties to cooperate. I want to serve my community, and the best way I can do that is with my mediation experience and skill."
Over the course of Bergman's twenty-plus year career, he has helped mediate or arbitrate cases in the fields of banking, commercial law, construction, consumer protections, contract law, employment disputes, franchise law, partnership dissolution, personal injury law, real estate, and securities among many others.
A practicing litigator since graduating from the South Texas College of Law, Bergman has over 5,000 hours of training in ADR under his belt. He is also an Adjunct Professor at South Texas College of Law and Pepperdine Law School, where he teaches Mediation and Negotiation as well as training more than 5,000 attorney-mediators and judges across the United States, England, Mexico and Turkey. His collective experience and knowledge has led to him earning an AV Rating from Martindale-Hubble. In addition to being named a "Texas Super Lawyer" by Texas Monthly Magazine every year since 2003, he was also voted the 2010 #1 Best Individual Mediator/Arbitrator in Houston, Texas by Texas' Best Survey and again by U.S. News-Best Lawyers Survey.