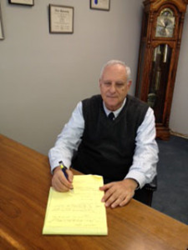 Sometimes court is your only option – and I've litigated my share of cases when it comes to that...but being reasonable and sitting down and at least listening to each other remains the best way to approach any problem. - Bert Binder
Hackensack, NJ (PRWEB) November 12, 2013
With more than four decades of experience in both the courtroom and the conference room, New Jersey mediation professional Bert Binder has announced the newest phase in his career: His membership in the premier nationwide mediation network, Mediation.com.
"Sometimes court is your only option – and I've litigated my share of cases when it comes to that, believe me," said Mr. Binder. "But being reasonable and sitting down and at least listening to each other remains the best way to approach any problem, at least initially. Mediation.com tells me people are figuring that out on their own – so naturally I want to be there to help as many people as possible."
Although having handled numerous criminal cases early in his career, Mr. Binder's practice has focused primarily on handling civil cases. His clients are, and have generally been, individuals and small companies, resulting in his having had the opportunity to represent both plaintiffs and defendants and thereby learning to view cases from both sides. This broad perspective has proven invaluable in his work as a mediator.
Mr. Binder, de facto, became mediator years ago almost without even realizing it. To his clients' total satisfaction, he has amicably resolved literally thousands of cases involving but not limited to business, contract, employment, labor, probate, real Estate, trusts and estates and workplace law.
Mr. Binder earned his bachelor's degree from Duke University and graduated from New York University School of Law. His mediation training was approved by the Superior Court of New Jersey and was awarded a Certification from the Superior Court of New Jersey formally qualifying him to serve as a mediator for the Court. Since that time he has undertaken more than 100 matters for mediation. The wide spectrum of issues he's dealt with combined with his personal style led him to mediation as a primary solution, drawing on his diverse experience and firm conviction that communication and good faith are the key ingredients to the end of any dispute – and that mediation need not be expensive.