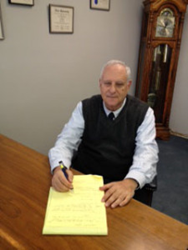 I feel very strongly that people pursue the easier, faster, and cheaper route of mediation as opposed to the often expensive, slow, and emotionally-exhausting process of litigation. - Bert Binder
Hackensack, NJ (PRWEB) December 17, 2013
A pioneer in the affordable mediation movement, Bert Binder recently announced a new refinement in the concept. The new policy of his organization, Affordable Dispute Resolution (ADR), is that if a party decides against mediation after the initial in-person consultation at ADR, there will be no fee for the session.
"As the name of the company suggests, I'm dedicated to making mediation affordable," said Mr. Binder recently. "I feel very strongly that people pursue the easier, faster, and cheaper route of mediation as opposed to the often expensive, slow, and emotionally-exhausting process of litigation. I am far from the first person to proclaim the benefits of mediation; others have been doing so for years. However, there is more to be done. Toward that end I have chosen to remove from the initial step any financial risk. Hopefully, more people will be inclined to, at least, consider and investigate mediation.
"With my new proposal, I sit with the parties to the dispute and explain to them the mediation process, its benefits, and the basic requirements needed for success. I also attempt to obtain a thumbnail sketch of each party's version of the dispute. I am thus able to assess the overall attitude of each of the parties to determine if they are likely to benefit from mediation.
"There are times when parties express attitudes which are so contrary to the idea of compromise that pursuing further discussion, at that time, would be futile. Indeed, we proceed further only if both parties are amenable to mediation and I feel there is a reasonable likelihood that it will be successful. If either of the parties is not convinced that mediation is worth trying or if either clearly evidences a mindset which indicates that they are not a good candidate for the mediation process, that's it. I wish them well, noting that if they, upon further reflection, have a change of heart, I would be happy to hear from them. I then end the session. There is no fee connected to such an initial consultation. I certainly hope this encourages more people to explore the route of mediated solutions."
A veteran attorney and mediation professional for more than four decades, Mr. Binder has degrees from both Duke University and New York University School of Law. After completing his formal mediation training in 2008, he was awarded a Certification from the Superior Court of New Jersey formally qualifying him to serve as a mediator for the Court. Mr. Binder continues to maintain his legal practice, which from time to time, when appointed by the Court, includes serving as an arbitrator.