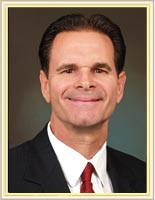 I teach on the subject of mediation and ADR and understand the value and benefit that ADR can offer for not only the litigants, but to the court system as well. - Brian Battaglia
Saint Petersburg, FL (PRWEB) November 16, 2013
After more than 25 years of representing clients in litigation matters and assisting and counseling them on complex legal issues, Brian Battaglia joins Mediation.com.
"I am inspired by the words of Abraham Lincoln, who said 'Discourage litigation. Persuade your neighbors to compromise whenever you can'," said Battaglia. "I know the value of avoiding court and settling disputes through mediation and other Alternative Dispute Resolution ("ADR") mechanisms. I teach on the subject of mediation and ADR and understand the value and benefit that ADR can offer for not only the litigants, but to the court system as well.
Battaglia is a Florida Supreme Court Certified Circuit Court, County Court and Family Mediator with a focus on employment, labor, business, healthcare, construction, insurance, and family law. He has taught in the subject of mediation as an Adjunct Professor at Stetson University College of Law.
In addition to mediation, Battaglia also offers counseling for employers and preventive law training, and conducts workplace investigations in response to administrative notices from the EEOC, state or local agencies.
Battaglia earned a JD from Drake University School of Law and also was awarded a Master of Laws in Health Law from the Institute for Health Law at Loyola University Chicago School of Law. He has also earned a Certificate in Negotiating and Mediating Employment Disputes from the University of South Florida Conflict Resolution Collaborative.