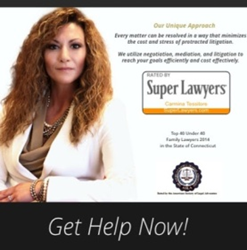 2014 was an exciting year for our firm. Thanks to the tremendous support of our outstanding clients, colleagues, friends, family and surrounding communities.
Fairfield, Connecticut (PRWEB) February 06, 2015
Attorney Tessitore was selected to Super Lawyers Connecticut Rising Stars in 2014, recognized as a Top 40 Under 40 of Family Lawyers in the State of Connecticut by the American Society of Legal Advocates for 2014 and 2015, recognized by Top Attorneys New England's Outstanding Young Lawyers for Family Law in 2014, and honored with the Outstanding Excellence and Dedication to Her Profession and the Achievement of Women award by the National Association of Professional Women for 2013-2014. She has also joined as an adjunct faculty member of Quinnipiac University School of Law in 2015.
As a featured author in the 2014 MCLE New England publication, "A Practical Guide to Divorce in Connecticut," Attorney Tessitore's chapter on financial affidavits breaks down the complicated nature of the requirement into easy to understand terms. Attorney Tessitore's article on Divorce Mediation: Mediating Financial Disputes, published in the September 2014 edition of Connecticut Lawyer Magazine, explains how the divorce mediation process can serve parties in marital dissolution actions in a non-adversarial manner.
Attorney Tessitore presents at CLE and seminars on the topics of divorce, custody, alimony, child support, foreclosure, and mediation/alternative dispute resolution, has taught conflict resolution skills to at-risk high-school aged teens, and serves as coach and trainer for mediation trainings. She also contributes print and blog articles to legal and non-legal publications.
Attorney Tessitore is co-chair for the Alternative Dispute Resolution Section of the Connecticut Bar Association, and serves on the Executive Committee of the Connecticut Bar Association's Women in the Law Section and Young Lawyers Section as co-chair for the Small Firm and Solo-Practice Committee. In 2013, Attorney Tessitore was honored to be appointed and served as a District Nine Delegate to the Connecticut Bar Association's House of Delegates. Additionally, she serves as co-chair for the Alternative Dispute Resolution Committee and Young Lawyers Committee of the Fairfield County Bar Association.
Attorney Tessitore has served as Graduate Trustee Board Member for the Albany Law School Board of Trustees for term years 2008-2011, chairing the Committee on Trustee-Student Relations from 2009-2011, and has maintained involvement in alumni affairs at sponsored activities and recruitment events.
As her calling in life is to aid the needs of others, Attorney Tessitore keeps an active role in non-profit organizations and community service associations. She has volunteered at ACT Spooner House food bank and homeless shelter in Shelton, and the Downtown Evening Soup Kitchen (D.E.S.K.) in New Haven. She has also volunteered with the New Haven Truancy Intervention Project, where she mentored and served as counsel for a minor child. Additionally, Attorney Tessitore has volunteered at the Stamford Day Laborer Wage Clinic, a project of Connecticut Legal Services, Inc., and serves as a volunteer attorney for the court annexed Foreclosure Volunteer Attorney Program in the judicial districts of New Haven, Fairfield, and Stamford/Norwalk. Attorney Tessitore also annually serves as Judge for CT Mock Trial competitions.
Attorney Tessitore is a member of the American Bar Association, Connecticut Bar Association, Connecticut Trial Lawyers Association, Fairfield County Bar Association, and New Haven County Bar Association.
Attorney Tessitore is admitted to practice in Connecticut and the United States District Court, District of Connecticut.