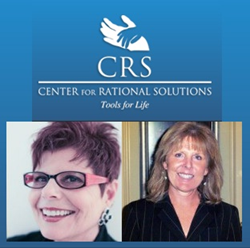 Lori and I both believe that families owe it to themselves to exhaust all other avenues of resolution in order to find a constructive solution to their differences. –Karen D. Sacks
Boca Raton, FL (PRWEB) October 31, 2013
Experienced and respected ADR professionals Lori Day and Karen D. Sacks, the driving forces behind Boca Raton's well-known Center for Rational Solutions, have between them almost sixty years of experience finding solutions outside of a courtroom. Recently, the duo announced their membership in the premier nationwide mediation network, Mediation.com.
"I founded CRS because I believe the courts aren't the best way for families to resolve their disputes," said Sacks, founder and Director of CRS. "Lori and I both believe that families owe it to themselves to exhaust all other avenues of resolution in order to find a constructive solution to their differences. We're both dedicated to helping families everywhere, and joining Mediation.com brings us closer to the people who need us. Our membership will make us available to a wider group of families in turmoil."
Within the Boca Raton community, Karen D. Sacks and Lori Day are known for the their novel collaborative approach to divorce. After 30 years of counseling, Karen D. Sacks opened the Center for Individual & Group Counseling (CIGC). The Center was created out of Karen's love for people and her passion for helping them improve communication skills needed to get through life's issues and challenges. Karen D. Sacks further commented, "I opened this company to give people alternatives to ugly divorce where the only people making money are the litigating attorneys."
Our goal at CRS is to share alternatives to the traditional two-lawyer litigated divorce system that usually develops hostile relationships and shatters families at the end. Karen D. Sacks further commented "In my experience as a therapist, mediation is the best alternative for families who want to stay in control of the proceedings and maintain the bonds they fostered before everything began to fall apart".
She also shares, "It is a common question I ask my clients: Did you know you have options to the typical divorce? Why spend tens of thousands of dollars on litigation if there are alternatives that can keep the money in their pockets instead? I feel it's my mission to educate as many people as possible so they can define their new family plan and get on with living."
Karen D. Sacks is a licensed Mental Health Counselor and is certified by the Florida Supreme Court as a Family Mediator and Parenting Coordinator. She specializes in helping families and children of divorce. Lori Day worked in the Florida Department of Children and Families and other family-oriented organizations for years before joining CRS. She is also certified by the Florida Supreme Court as a Family Mediator and Parenting Coordinator.
For more information, please contact the Center for Rational Solutions at http://crsforlife.com or call (561) 245-8973.